Welcome to the complete guide to the TD-17!
Use this guide as a goto resource of practical how-to's for the TD-17.
This guide starts with setting up and configuring the kit and covers the many possibilities for creative and productive practice and performance.
Contributed by Simon Ayton for the Roland Australia Blog
INDEX
SETUP
CONFIGURING THE MODULE
CALIBRATING THE HI-HAT – VH OFFSET ADJUSTMENT
CHOOSING TRIGGER SETTINGS
PRACTICAL TRIGGER SETTINGS
BLUETOOTH AUDIO
COACHING FUNCTIONS
CREATING KITS
HOW TO USE 'USER SAMPLES' WITH THE TD-17
ASSIGNING SOUNDS TO TRIGGERS
USING EFFECTS
RECORDING WITH THE SONG PLAYER
SD CARD STORAGE
FACTORY RESET
EXPANDING
SETUP
Setting Up The Rack Left or Right-handed
https://www.roland.com/au/support/by_product/td-17kvx/owners_manuals/56c278d4-1469-44dc-8664-c76d3a9f4099/
First time setup is the most time consuming but once the rack is built, you can leave it setup and simply fold it if you need to move it.
Alternatively, you can remove the side poles and cymbal arms for packing down into a drum hardware traps case.
Follow these quick setup steps.
Lay the rack pipes and components down on the floor first along with the picture of the completed rack so you have everything within easy reach as you build.
Pay attention to ensure the 4 legs are at right-angles with relation to the floor for best stability.
Make sure the leg and rack pole bolts that attach to the main square front cross-frame are tight.
Once the rack is upright, position the accessories such as stool, kick pedal and components in the most comfortable position for you.
TIP: When packing the rack down for travel, leave the clamps in position for quick and easy setup back to your preferred positions.
Here, seasoned pro Craig Blundell of the Steven Wilson band shows his setup procedure and tips for good playing ergonomics with V-Drums.
Lefties welcome!
Setting up for lefties is a simple case of building the rack as a mirror image of the right-handed version and continuing in the same way for the trigger components.
CONFIGURING THE MODULE
The TD-17 module comes with several kit versions so the module is pre-configured to match each particular trigger combination.
These trigger types can be changed at any time and the trigger settings can also be extensively tweaked to suit your playing style.
Check and choose the trigger types that correspond to your setup.
This is done in [SETUP]-Pad Settings
You can change how the triggers respond in the BASIC and ADVANCED PAD SETTINGS menus.
TIP: If you change a trigger setting and want to revert back to the original settings, simply switch to a different trigger type and back again to the correct one to automatically recall the factory trigger settings for that trigger type. Each Roland V-Drums trigger component has a model number for easy identification.
CALIBRATING THE HI-HAT – VH OFFSET ADJUSTMENT
The VH-10 hi-hat shipped with the TD-17KVX kit has a manual open/close adjustment on top which needs calibrating before use.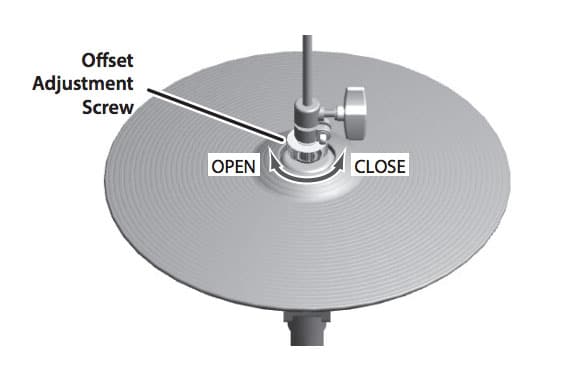 Calibration or "offset adjustment" is vitally important and ensures that the hi-hat responds with open and closed sounds and anything in between depending on your foot position.
Offset adjustment is a simple procedure that can be performed at any time and it's a good idea to carry it out before performance especially if the kit has been moved.
This is a 'Global' setting that applies to all kits within the module.
Make sure the correct hi-hat pad type is selected in the settings.
[SETUP]-Hi-Hat Settings-Pad Type=VH-10
Loosen off the mechanical hi-hat clutch on the top of the VH-10 so the top hat rests on the hi-hat controller.
Taking note of where the indicator is on the screen, turn the knurled knob on top of the hi-hat towards open or closed so that it lines up between the two arrows which will become highlighted when correctly adjusted.
When done, simply set your preferred hi-hat playing gap and exit out to the main screen.
CHOOSING TRIGGER SETTINGS
The default trigger settings are carefully chosen for each pad trigger type to give the most reliable and expressive triggering. The trigger settings can be modified, however, to suit individual tastes.
Let's start with the basic trigger settings and what they do. Keep in mind, these settings interact with one another so there are an incredible number of possibilities with just these four settings!
PAD TYPE
There are pre-made templates of optimum settings for each trigger type available for use with the module. Simply choose the trigger type you are using from the extensive list inside the module.
Pad types include kick, tom, cymbal, bar and acoustic triggers all of which are editable should you wish to modify their trigger characteristics.
If edits are made to the pad type's trigger settings, switching to another pad type and back again will recall the default settings for that pad type.
SENSITIVITY
Value 1-32
This parameter determines how the module will respond to the velocity range of hits.
Low values will make the trigger less responsive to hitting strength.
Very high sensitivities allow playing with fingers but will effectively reduce the dynamics when playing with sticks.
THRESHOLD
Value 0-31
When the strength of a hit exceeds the threshold, the module will produce sound. Below the threshold no sound will be heard.
If the threshold is set to zero, any slight vibration will set off the sound engine.
The default threshold setting is designed to eliminate unwanted hits but still be low enough for intentional ghost notes are heard.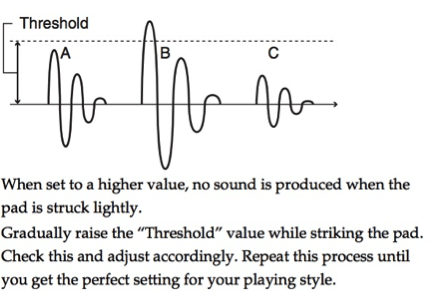 CURVE
LINEAR | EXP1 | EXP2 | LOG1 | LOG2 | SPLINE | LOUD1 | LOUD2
The standard curve shape of LINEAR produces predictable increase in volume as you hit harder.
Alternative curve shapes are provided to allow the response be tailored to the music style.
The following curve shapes are non-linear and therefore respond differently through their range offering higher or lower dynamics than linear.
LOG1 and LOG2 offer decreased dynamics which can help enhance ghost strokes. These types also provide a sort of dynamics compression to help even out strokes.
The Spline shape is useful for creating extreme dynamics. If the aim is for dramatic dynamic changes, spline is ideal.
Loud curves are ideal for metal drumming. They are also very useful for creating reliable and even triggering and for copying drum machine like patterns without human-like dynamics.
PRACTICAL TRIGGER SETTINGS
The following guide offers 5 typical scenarios where trigger changes may be required with alternative trigger settings given to suit.
Note:
These settings are 'Global' and affect all kits.
This means once you change the settings, you have effectively customized the kit to suit your playing.
You can easily revert to factory settings at any time by re-selecting the trigger type, performing a factory reset or by saving your factory module settings to an SD card for quick recall.
Feel free to experiment and find your favorite settings, safe in the knowledge that the original factory settings are but a few button pushes away.
You can access the following trigger settings in [SETUP]-Pad Settings
1. Fast double kick playing – Playing lightly but still wanting a powerful and aggressive attack.
While light and delicate playing can be helpful for speed and stamina, the resultant drum sound often suffers from a lack of attack and intensity. An easy way to combat this with V-Drums is to modify the trigger response with a couple of small tweaks.
SENSITIVITY = 12-20
Increase the sensitivity above the default of 8 to respond more easily to lower velocity playing.
A setting of 32 will mean even the lightest hit will respond at full velocity making for an incredibly aggressive kick sound. A good middle ground may be around 12-20.
CURVE SHAPE = LOUD2
Curve shape adjusts the reaction of the trigger through the velocity range.
The default curve shape of LINEAR produces increased volume as strike force increases.
LOUD1 & LOUD2 curve shapes produce powerful volume to even lighter strokes and can really help consistency in triggering.
2. Ghost strokes on the snare are not loud enough compared to a full velocity hit- They can't be easily heard when playing with the music
You could learn to play the ghost strokes, the little notes in between the main hits, louder or there's a quick adjustment you can make that won't affect the overall volume but help audibility of quiet strokes.
CURVE SHAPE=LOG2
3. Quiet ghost strokes are not being registered at all by the module
Threshold determines when the module starts responding to hits. The ideal setting is the lowest setting possible where unwanted hits are not heard but your quietest hits are.
THRESHOLD=2
Tap lightly on the drum while adjusting to determine when the sound switches on and set the threshold accordingly.
This value will be wildly different for each trigger type so take your time and go through each trigger individually on the kit.
4. Vibrations are setting off the trigger
Remember that threshold determines when the module starts responding to hits.
The ideal setting is the lowest setting possible where unwanted hits are not heard but your quietest hits are.
Start with the threshold set to 0 and increase it a value at a time until false triggering stops.
Setting the threshold value too high will reduce the ability for low velocity strokes to be heard so be careful.
THRESHOLD=4
5. Triggering is unreliable and unpredictable when using the module with RT series acoustic triggers and mesh heads
You can easily build a hybrid acoustic and electronic kit using the TD-17 module and RT series acoustic triggers on an acoustic drum kit.
Be aware that the default trigger pad types for the RT triggers are designed for acoustic acrylic drum heads which have completely different characteristics than mesh heads.
These are some settings that work well with RT triggers and Roland dual PowerPly mesh heads.
This combination of mesh and settings offers excellent trigger consistency, dynamics and responsiveness on all acoustic drum sizes from 6-22".
Using Roland PowerPly dual mesh heads
PAD TYPE = RT or PAD2
SENSITIVITY= 12-2
CURVE = LOG1
THRESHOLD = 2
BLUETOOTH AUDIO
This feature of the TD-17 allows cable-free connection between Bluetooth devices and the TD-17's module.
Another great feature is the ability to record the stream of incoming audio together with your kit performance.
This WAV file recording can then be exported onto SD Card for further editing or layered up with a video for the best quality performance video.
Follow these simple steps to connect a Bluetooth device and record the performance.
Turn on Bluetooth in the TD-17 under SETUP-Bluetooth-ON
Turn on Bluetooth on your portable/streaming device and choose TD-17 AUDIO as the device
Confirm the TD-17 reports as "CONNECTED" and the Bluetooth indicator lights on the module
Start audio on the device and press the round [RECORD 'O'] button on the module
When done, press [PLAY/STOP] on the module
Press the function button (EXPORT) to save the recording to SD Card to the 'REC' folder
TIP: The Bluetooth features also allows transmission of MIDI. Apps like GarageBand for iPhone can use this MIDI data to capture and trigger software at the same time as capturing the sound. Simply choose the TD-17 as both the MIDI and audio devices in the App.
COACHING FUNCTIONS
Arguably the most important role of the drummer is keeping time.
The coaching functions of the TD-17 are designed to help improve your internal rhythm by providing continual feedback on how you are doing.
Here are the modes and how they can help you.
TIME CHECK
Play along to the click monitoring your timing in real-time.
At the end of a user selected amount of bars you are given a score. This helps you get a better understanding of your playing tendencies.
In the COACH MENU screen, press the [F1] (TIME CHECK) button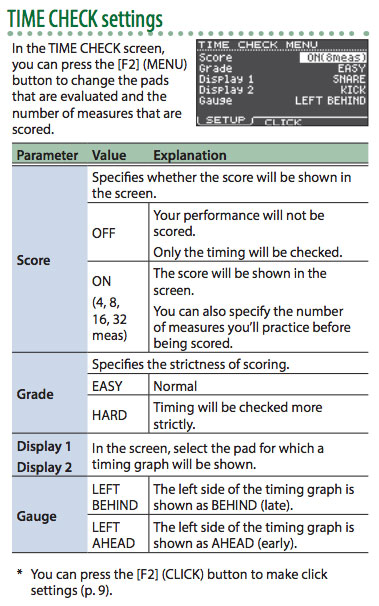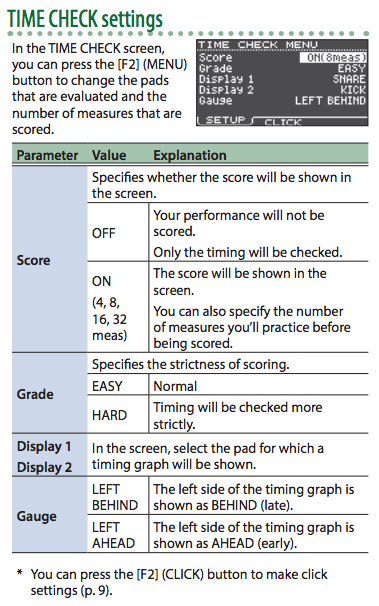 QUIET COUNT
This mode will help you develop a good sense of time/ tempo. For the first few measures, the click is heard at the specified volume, but for the next few measures the click is not heard. This cycle of several measures will continue until you stop it.
Mastering the quiet count mode involves finding a comfortable posture, aiming for a consistent stick height and hitting position and playing with a relaxed and repeatable groove.
In the COACH MENU screen, press the [F2] (QUIET COUNT) button.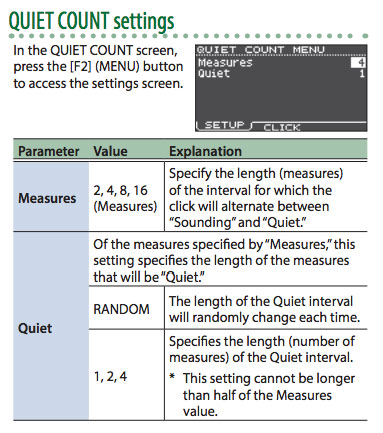 WARM UPS
In this mode you'll successively practice steps 1–3, be graded on your performance at each step, and then receive a final evaluation. You can choose one of three courses (5/10/15 minutes), ranging from easy to difficult. You can also adjust the tempo according to your level of skill.
In the COACH MENU screen (p. 11), press the [F3] (WARM UPS) button.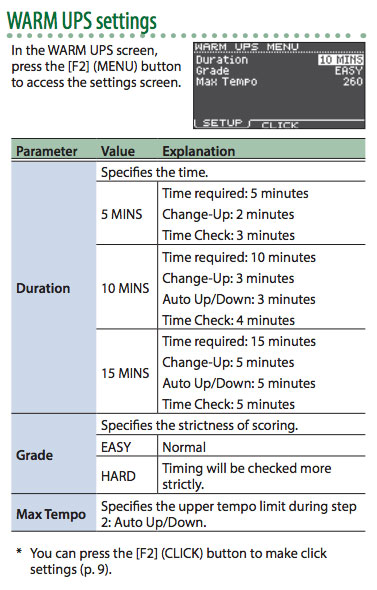 10 WAYS TO IMPROVE YOUR DRUMMING SKILLS
CREATING KITS
The TD-17 has a highly customizable sound engine which makes creating your own unique kits a breeze.
The internal factory sounds are velocity sensitive and multi-layered and there are a range of practical adjustments you can make to dramatically or subtly modify every sound.
Each trigger surface can have two complete factory or user sample sound layers assigned and these two layers can be switched, faded or mixed together. This layering capability is the key to unlocking the creative potential of the TD-17.
The following are some examples of how you might use layering.
Use Drum Sample Library Sounds to combine with the TD-17 internal sounds for an unlimited drum sound palette
Use classic drum machine sounds for a human playable drum machine with your groove
Layer 'elements' such as beater and stick attack, reverb tails, snare rattle or kick sub channel sounds to reinforce the drum sound
Layer percussion including hi-hats, cowbells, shakers and tambourines to any part of the kit
Switch between completely dry and wet sounds depending on how hard you hit
HOW TO USE 'USER SAMPLES' WITH THE TD-17
TIP: Turn off H&R to allow separate assignment of head and rim triggers. You can also set different SUB layer sounds and volume and pan levels for these two trigger zones.
The TD-17 allows samples to be loaded into internal memory where they can be triggered from any zone of connected triggers.
The 'Play Type' of sounds can be one-shot hits that play from start to end or phrases that start and stop with alternating hits. Samples can also loop indefinitely until hit again.
Importing
Insert SD Card
Press [USER SAMPLE]-(MENU)-IMPORT-(ENTER)
Press [FOLDER UP] to locate your sample folder
Choose a sample and press [SELECT]
Choose any blank internal memory spot to load the sample into.
TIP: Use the 'Song Player' to stream backing tracks and audio that do not need to be triggered from pads. Streaming is instant and does not require importing into the module so takes up no valuable user sample space.
Playback Options for User Samples
The way each user sample responds when triggered can be adjusted in the TD-17.
The following are the playback options and the typical uses:
One Shot: Hit to start the sample playing from start to end. Hitting again re-triggers the sample. This is useful percussion sounds that you want to play dynamically
Phrase: Hit to start the sample which will play to the end. Hitting again will stop it from reaching the end. Useful for loops and backing tracks.
Loop: Hit to start a continuous loop. Hit again to stop.
TIP: Change samples to 'POLY' mode so that they can overlap. This is useful for cymbals and drum hits with long tails.
'Mono' mode will allow only one version of the sample to play at any time. This can be useful where a clean kick drum sound is required or for triggering musical phrases where only one version is to be heard at a time.
ASSIGNING SOUNDS TO TRIGGERS
Each trigger zone in the TD-17 can be assigned two sound layers called Main and SUB.
These two layers could be internal sounds which are already multi-layered velocity switching themselves or you can combine samples with the internal sound engine in several ways.
If you want to add a user sample layer, simply choose the sound from the 'User Sample' category when assigning a sound.
These layers can be mixed, switched or faded together for many creative possibilities.
Here's a description of the various fade/switch methods that can be used.
MIX
Main and SUB layers are always mixed together with the volume balance determined by SUB volume.
Use: Ideal for combining 'element' sounds such as snare rattle, kick drum sub microphone, reverb
FADE1
The SUB layer will come in only at the velocity level chosen from 0-127 and its level determined by the SUB volume.
Use: Layer a cowbell on the hi-hat that only triggers when played at higher velocities. See the 'More Cowbell' patch number #31 in the TD-17 for an example.
FADE2
The SUB layer will come in gradually at the velocity level chosen from 0-127 and its level determined by the SUB volume.
Use: Create a custom kit with user samples taken from drum sample software.
Eg: A similar internal snare sound is used for ghost strokes, rolls and subtle playing and the drum sample is assigned to the SUB layer. The SUB layer gradually fades in to combine with the factory snare. This technique allows playing response and huge creative possibilities.
SWITCH
The SUB layer will replace the Main instrument at the velocity chosen between 0-127 with its level determined by the SUB layer volume.
Use: Dramatically change sounds depending on how hard you hit. You could have 17" hi-hats when played softly or pitched up 12" hi-hats when playing harder.
TIP: When using user samples that will be played percussively that is where you want the tail of each note to remain when another is played on top, change the mode of the sample from 'Mono' to 'Poly'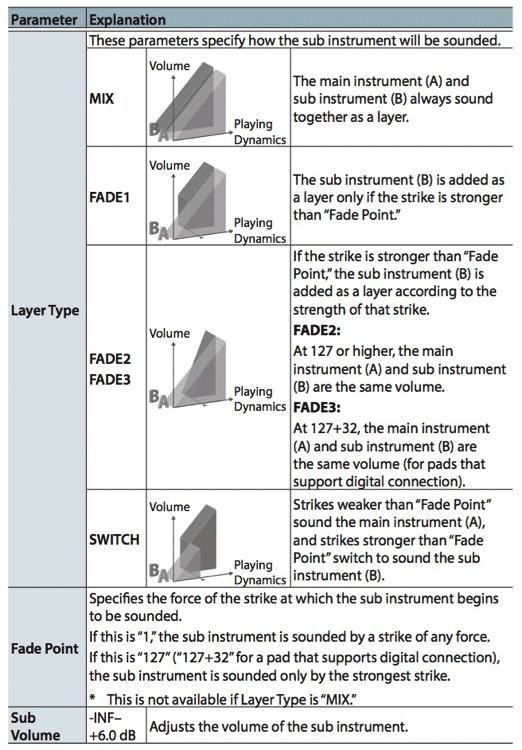 USING EFFECTS
The TD-17 includes a huge range of effects that can dramatically alter the drum sound.
A simple way to create a kit with effects is to choose a pre-made factory kit already with effects on it and simply swap out with an effect of your choice.
Choose Kit #30 'Bottle' and change the Phaser effect to one of your preference in:
OTHER-MULTI FX
Of course, once you have an effect you like, you can continue to swap out the sounds for a completely unique, custom kit.
RECORDING WITH THE SONG PLAYER
Recording an audio performance is simple using just the TD-17.
WAV file recordings can be streamed directly from the SD card or even imported as user samples and triggered from any pad you like.
The TD-17 will hold the most recent recording which can then be exported before continuing with more recording.
SD CARD STORAGE
SD cards can hold sample data, WAV songs/recordings, kits and system settings.
You can use a card reader on MAC or PC to save backups of your card for safety.
Here is how the SD card structure works on the TD-17.
Connecting to a Computer or iPad
You can easily connect the TD-17 to MAC or PC for easy recording and practice.
See the complete guide to recording the TD-17 here.
FACTORY RESET
In case of any triggering issues, return the module to its default settings with a factory reset.
This clears all kits and global settings so make sure any custom kits or changes you've made are saved individually and as a backup to SD card.
Click the "Reset With User Samples' to clear any user samples too for a fresh reset.
NOTE: It's important to also re-calibrate the hi-hat in the case of the VH-10 or VH-11
EXPANDING
The external dual head and rim trigger inputs can be connected to a wide range of triggers including pads, cymbals and acoustic triggers. This means you can create an electronic/acoustic hybrid kit.
See the link to expanding your TD-17 here
https://www.rolandcorp.com.au/blog/expanding-customizing-v-drums
Download the TD-17 user manual here:
https://static.roland.com/assets/media/pdf/TD-17_eng01_W.pdf
Related Articles
V-DRUMS FOR THE GIGGING DRUMMER
EXPANDING AND CUSTOMIZING YOUR V-DRUMS
ELECTRONIC DRUMS Q&A
Related Products