With the V-Drums range of kits, your biggest obstacle is also one of the range's biggest advantages—variety. As advantageous as variety is, it's also responsible for one of the most frequently asked questions regarding the V-Drums range.Contributed by Simon Ayton for Roland Australia
Are you someone who has always wanted to play drums but didn't know where to start? Maybe you're a frustrated bass player who wants to have some fun laying down your own drum tracks. Because really, why should drummers have all the fun?
Have you never played a musical instrument at all, yet want to experience the joys that can only come from replicating that awesome drum part from one of your favourite songs? Everybody's got one of their own favourite drum pieces.
For example—and for those that know the song—who hasn't wished they could play that epic drumming moment in Phil Collins' In The Air Tonight?!
Perhaps you already play the drums but wish you could expand on your kit's tonal range and/or options? Sure, you can add digital capabilities to your existing kit using the Roland TM-2 like Michael Schack does, but maybe you're ready to take your digital drumming to the next level with a full V-Drums kit. A Roland V-Drums kit is a great option to complement your acoustic drum kit/s – be it portability, greater control over you live sound or easier integration with your DAW.
Regardless of your level of experience, or what you're trying to get out of your current drumming experience, the Roland V-Drums range offers the best solution in digital drumming for you. All you need to do is work out which kit is the right one for you.
What are the differences between the V-Drums kits? Let's get started!
The following five kits make up the V-Drums range:
TD-1
The V-Drums range kicks off with a bang to say the least. The TD-1 comes in K and KV versions with the TD-1KV featuring a mesh head on the snare. This important feature sets V-Drums apart from the rest. A mesh head allows the user to adjust the tension to suit the required rebound and because it's a head stretched on a drum, it gives the most realistic and interactive feel just like it's acoustic cousin.
The crash, hi-hat and ride cymbal pads respond and move like acoustic cymbals and you can also 'choke' the cymbals to mute the sound just like with acoustic cymbals.
The TD-1 series also include silent kick and hi-hat pedals and a stable and adjustable stand. The module includes a recording mode for capturing your ideas and performances and there are 25 versatile kits with adjustable volume, metronome with practice modes.
There's output for speakers or headphones as well as a mix-in for combining with portable music players.
The USB port allows the TD-1 to be used with recording and drum tuition software such as Melodics for V-Drums.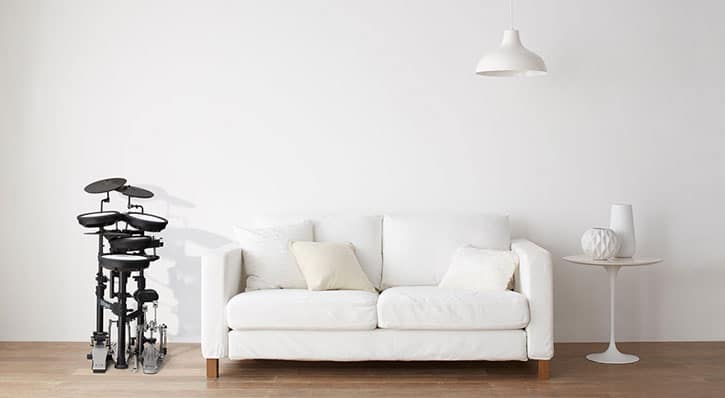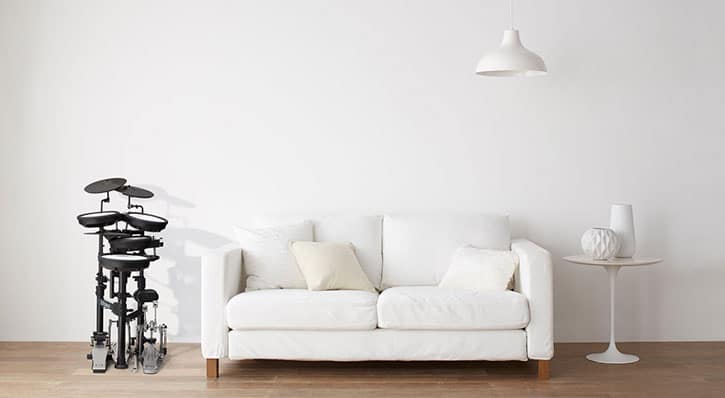 This amazingly tiny fold-up, all mesh head kit can be packed into the optional carry bag so you can take it whenever you go away and it makes a great rehearsal or practice kit.
The included rack features an integrated double kick trigger pad that can be used with conventional double mechanical kick pedals such as the Roland RKP-10D. The rack can also be adjusted to suit both kids and adults and just like all of the V-Drums kits, it's easy to setup for left-handers too.
The replaceable mesh pads are velocity sensitive and tunable, and offer the same feel as Roland's pro series pads and are designed for years of trouble free playing.
The TD-1 module is easy to navigate and has tried and tested favourite V-Drums sounds to suit a wide range of playing styles. Like the other TD-1 series kits, there are practice routines and recording built-in.
USB allows MIDI connection for use with recording and drum tuition software such as Melodics for V-Drums.
You can also find a headphone/line output, mix-in for connection to amplifiers for rocking out with friends or playing along to your favourite music.
TD-17 Series V-Drums
Designed around a larger foldable and easy to transport rack, the three model TD-17 series is very popular with beginners and experienced drummers alike. Topping the range is the TD-17KVX. With its stand-mountable VH-10 hi-hat, dual crashes and 12″ PDX-12 snare pad, it's the inspiring powerhouse kit you'll play all day.
If you want to stop saving and start drumming today, the TD-17K-L comes with durable rubber toms and PDX-8 mesh snare and the great sounding TD-17, like the top kit. The TD-17KV goes mesh all the way with upgraded cymbals too. Metal fans love that the stable KD-10 kick trigger pad can be used with their favourite double kick pedal for near silent double kick practice and the extra trigger inputs on the module allows expansion with additional triggers down the line.
The TD-17 module has a huge range of sounds from acoustic to electronic and you can even build your own kit patches. It's simple to tune, muffle and add reverb to your new kit patch and now you can even import your own user WAV samples to layer with the internal sounds for endless sound possibilities.
The built-in SD Card slot allows you to save your kits to share with friends or load more which you can download online. WAV and MP3 files can be played directly via SD Card too, for the ultimate fun practice session.
USB and *Bluetooth allow you to connect your kit to your computer and mobile devices quickly and easily and the built-in phone tray is a super convenient place to dock your device. There is a mix-in, headphones out and line outputs for connection to speaker systems for high volume performance with the industry leading V-Drums sounds.
*Bluetooth available on KV and KVX models
TD-25 V-Tour Kit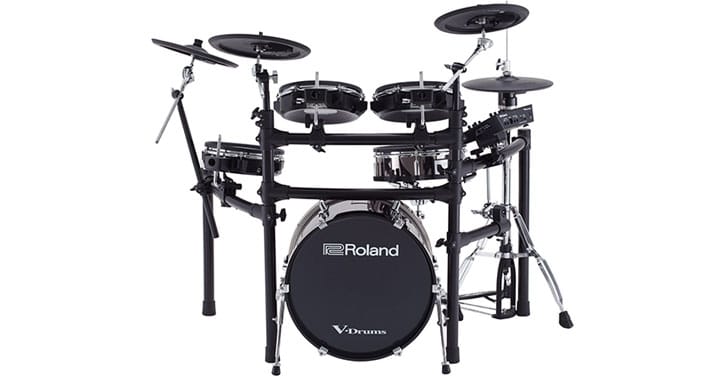 A new leap in quality makes the TD-25 standout from all other kits in this price range. The larger rack allows room to grow and includes high quality components built to last.
All three KVX, KV and K versions feature mesh pads and come with a VH-11 hi-hat for mounting on your own conventional hi-hat stand, just like the pros prefer.
The KVX is the pinnacle of the TD-25 series, featuring an all-birch 18″ KD-180 kick with integrated trigger system and stand mountable 12″ PD-128S-BC black chrome trigger snare. The pads are 10″ PDX-100 and there are two crashes and a three-way ride.
The KV version also features dual crash cymbals. All kits feature the same sound engine with the world class TD-30 sound engine at its heart, with 'sweep' sensing which even allows playing with brushes.
The kick pad in the K and KV versions can of course be attached to any single or double kick pedal and you can easily upgrade the kick trigger later.
Players instantly recognize and appreciate the nuances possible with the TD-30 derived SuperNATURAL sound engine with its positional awareness and "anti-machine gunning" for the most rewarding playing experience. Every hit on the snare and ride cymbal generates a unique sound just like on an acoustic instrument which makes all the difference to a musician.
The slick TD-25 sound module makes it simple to choose sounds grouped by genre and many kits are a single push of the large silver knob away.
EQ and kit editing features have dedicated knobs for fast changes and allow custom kit creation. An online resource of new TD-25 kit patches is expanding all the time and you can easily load more via USB stick to create your own favourites list.
Recording of your drum grooves can be done instantly as WAV files straight to USB stick or connect the kit to your favourite Mac/PC program for professional quality recording with all setups – from home recording setups to professional recording studios.
TD-50 Series V-Drums
The standout flagship, proudly electronic kit carries on the V-Drums tradition started with the TD-10 V-Drums in 1997. Read about the history of V-Drums here.
With absolute attention to detail in sound, playability and features, nothing compares to the TD-50 series.
Three models of the TD-50 are the KVX, KV and K. All kits feature the TD-50DP pack with revolutionary new digital triggers and the stunning TD-50 sound module.
The included 14" PD-140DS digital snare is connected via USB and has the same size, weight and look as a conventional acoustic snare. Playing wise, the instant touch responsiveness and rebound are thanks to the trigger system and 3-layer mesh head for the most impressive experience ever from a trigger. Simply laying a stick across the head and rim instantly produces a cross-stick sound without any special modes required.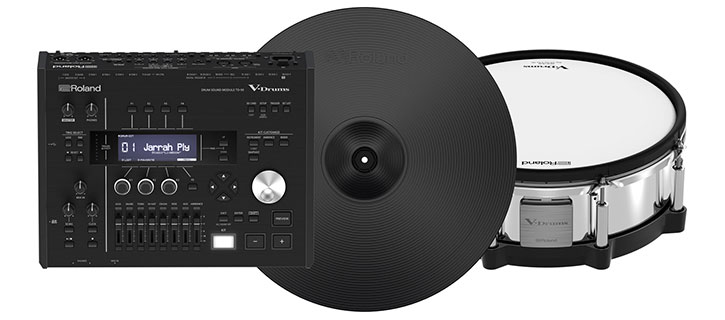 Also part of the core TD-50DP pack is the CY-18DR. This 18" digital also features a USB connection and weight and look of an acoustic cymbal without the noise.
The remarkable touch responsiveness of the electrostatic surface allows techniques like bell, bow and edge playing but also finger touch muting to kill overtones right through to hand touch or grab muting for silencing the cymbal instantly.
All TD-50K, TD-50KV and TD-50KVX models have custom made racks with quick release fittings, memory locks and ball swivel joints can take all you can throw at it while the trigger pads feature everything learnt from years of V-Drums development including silent design, ingenious mounting and vibration isolation system.
The KVX model introduces a 22″ acoustic kick with integrated KDA-22 trigger system for the best looking and feeling kick trigger ever. The largest size pads all feature customizable wraps, an oversized chrome rack with larger cymbals, and top-of-the-line VH-13 hi-hats for the widest dynamic range of any trigger hi-hat.
There's also a KV model with the same components and features as the KVX but with a smaller footprint. The supplied 14" KD-140 kick trigger offers the best kick drum feel on the market with heavy duty build quality and wide pedal mount for extreme playing and compatibility with all popular pedals.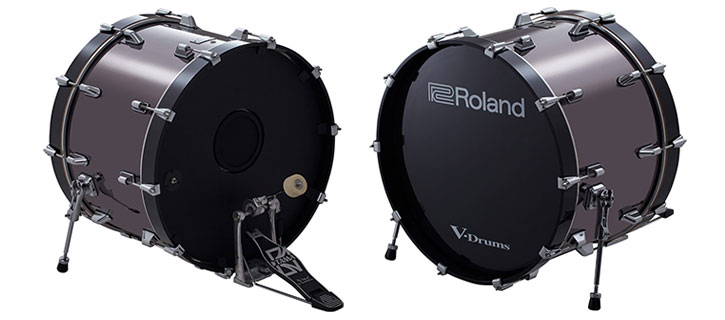 The TD-50 module itself is in a class of its own with a full range of professional features such as main and individual balanced outputs, routable click, audio recording with MIDI and audio export and full sound editing control. The diverse range of classic acoustic and electronic onboard sounds are mere starting points for creating any sound you can dream up.
The extended V-editing possibilities are almost limitless. Apart from drum and cymbal size, you can adjust the kick SUB mic amount, type and sustain, add sizzles to cymbals, change the cymbal thickness and stick attack/ping amount and colour, assign a cowbell or any sound layer on any drum including the hi-hat and you can even move microphone position to perfect your sound. The transient controls let you shape the attack and release on every single strike for a world first in drums.
User sample load is now standard for importing your own WAV samples for layering-up with the internal sounds to create the ultimate kit sound. Sounds can be tweaked and edited in the module and assigned to any trigger surface with 60 sound trigger zones per kit patch. With the TD-50, kit switching is instant with no loading time, which is critical for live performance. You can then share your new creation with others via the high capacity SD Card slot on the side.
There are small and big MIX-IN ports in the front and back for integration with phones and media players and the SD Card slot allows instant, synchronized click and backing tracks to stream via SD Card with no loading time.
There are separate volume controls for click and backing tracks and even small and large headphones outputs so you never have to search for an adapter again!
The SONG playback engine also allows recording of MIDI and audio with extremely quick and easy SMF and WAV audio export. This is ideal for capturing ideas and especially useful for recording a soundcheck performance so the drummer can finally listen out the front with the audience.
There are extensive overhead, ambience and reverb controls, all of which can be easily controlled from a single fader. Many functions have their own dedicated knob or button for quick access mid-performance. Additionally, you can assign triggers and footswitches to change kits, turn the reverb on and off, along with other common functions.
Round the back, 10 balanced audio outputs let you record multi-track into audio interfaces for separate control of sounds in the mix and also allow you to connect the kit to a stage box to give the front of house engineer maximum control for the perfect blend with the rest of the band.
12 in, 4 out, multi-channel USB for PC/MAC connection for 96Khz, 24bit recording is standard and there is 1 digital and 5 analog expansion ports for more triggers as your passion for drumming grows.
See the complete guide to the TD-50 here
Conclusion
Each kit comes with its own advantages and feature lists. The secret to the correct kit purchase is knowing where you're at in your drumming journey and what features are the most vital to your future development as a drummer.
If you are pushed for space, one of the smaller kits like the TD-1K or TD-1KPX2 could be ideal, whereas if you want to learn to play double kick and build your own kit patches, the TD-17K-L or above would be perfect.
If drumming is your thing, then the TD-50 could quite possibly make your life complete.
Regardless of your specific requirements, it's important to know that all V-Drums kits allow you to alter your sound style, record to PC/Mac and experience Melodics for V-Drums which is great for all V-Drummers to learn and expand their playing skills with. So, no matter which kit suits your needs, you've got all you need to practice, perform and record your favourite drum parts.
Perhaps the most difficult question you'll be asking yourself now is "What song will I learn first?"
Handy Lookup V-Drums Range Comparison Chart

Related Articles
How To Add Samples To Your V-Drums
It's Never Too Late To Learn Drums
Learn Drums, Play Online and Have Fun!
Related Products