You probably already know how great the Boss Katana amp range is – the proof is all over the internet and in the hands of users all over the globe since Katana took the amp world by storm in 2016.
What you might be struggling to decide is – which Katana is right for me?
And there's absolutely no shame in not knowing the answer to that. Due to its immense popularity, the Katana family of amps has rapidly grown to encompass SEVEN distinct models (and an extension speaker!).
So today, what this article is going to do is talk through the Boss Katana amp range. We'll see how each one might suit your needs, from the teeny tiny Katana Mini all the way up to the all-new Katana Artist flagship combo.
And for your convenience, at the end of the post, there's a handy table comparing the key features of the whole range against each other. Go on, skip straight to it – but come back and have a read/listen once you have.
Contributed by Ed Lim for Roland Corporation Australia
Recommended Article: The BOSS Tone Studio: Unleashing The Power of The Katana
KATANA-MINI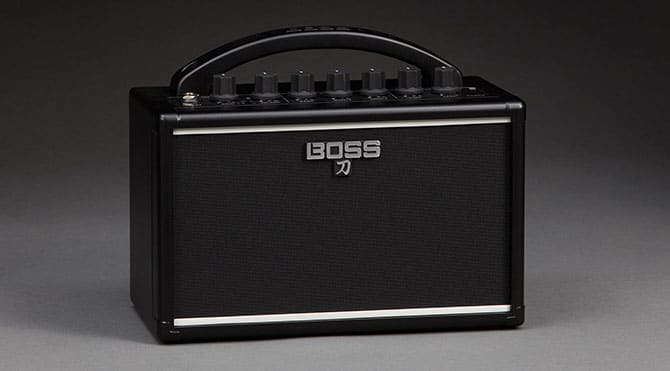 It's all in the name. It's the baby of the family – tiny, super portable and runs on batteries. You get 3 amp modes (Clean, Crunch, Brown) and a tape-style delay. Everything you need for a practice or warm-up amp, and nothing you don't. It's got a custom 4-inch speaker that sounds mightier than you'd think – just ask these guys.
BUY THIS IF YOU: Just need to make a noise, anytime, anywhere.
KATANA-AIR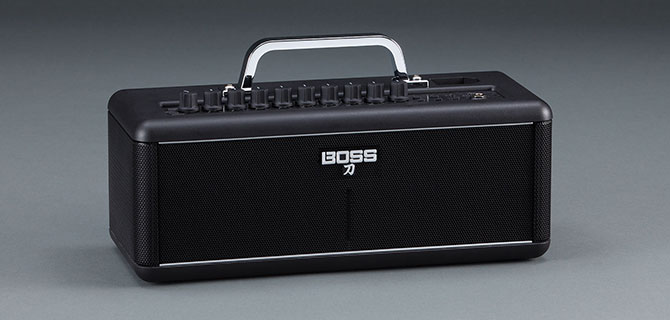 Probably one of the most exciting new product releases in the Boss Katana amp range! Announced recently at Winter NAMM 2018, the KATANA-AIR is the world's first truly wireless amp. What exactly does that mean? Exactly what it says on the tin:
A newly developed custom wireless transmitter means no more tangled instrument cables
Editing patches is done via Bluetooth to your smartphone or tablet with the BOSS ToneStudio app. And you can stream music from your phone to the Air to play along to!
Last but not least, it can be battery powered for on-the-go use (though an AC adaptor is included as well).
Not to forget that you get the exact same suite of great amp and effects tones as the full-sized Katana amps!
BUY THIS IF YOU: Are sick of tangled cables in your practice room/lounge, and want to live your best life, wire-free.
KATANA-50, 100 and 100/212
It makes sense to think of these 3 combos as their own little subset of the Katana family. After all, they were the pioneering trio that set off the Katana revolution! They all share a similar feature set, with a couple of key differences, which will make it pretty easy for you to decide on which of these will work best for you.
KATANA-50

The KATANA-50 is the foundation of the Katana combos. It's the most affordable, but with no less ability to rock out! Also, it's the most portable, housed in a relatively small combo box. The perfect practice amp – ask Rabea.
If you're looking for the Presence knob, don't worry – you can use the Tone Studio editor to gain access to the amp's internal Presence control.
KATANA-100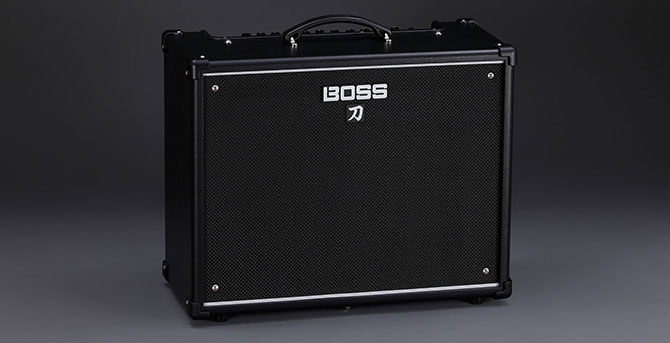 The next step up is the 100w combo. Aside from the obvious wattage bump, it lives in a slightly bigger box and has a speaker with a beefier magnet, which does inherently mean that it'll sound just that bit punchier and bigger. You also get a Presence control on the top panel and an FX loop. With the ability to use the BOSS GA-FC foot controller, you can easily switch between 4 presets, control effects, turn the FX loop on/off. You can also connect two expression pedals! It really does open up your possibilities for controlling the amp in a live situation a lot more.
KATANA-100/212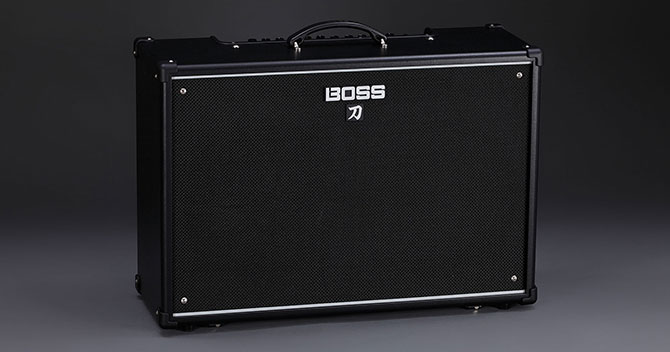 Bigger box, more speakers! Pretty straightforward – if you need to move more air than the 112 combo, then the 212 is what you need. End of story.
KATANA-HEAD

The Katana-Head contains all the features of the 100W combos, with the addition of MIDI control. Pair it with the matching 2×12″ extension cabinet, or you can add your own favourite cabinet to the mix. A Katana-Head through a great 4×12" cab is something to behold. Check out the Katana-Head going head-to-head (haha) with a classic late 70s British amp, (both going into the same cab) right here:
And if you want to leave your hefty 4×12" at the practice space, just take the head home with you – you can still practice through the in-built 5" speaker!
BUY THIS IF YOU: Have an awesome speaker cabinet that you just have to run your amp through, and/or if you need MIDI control of your rig.
KATANA-ARTIST

The new king of the castle! Think of this as the mostly highly-optioned Katana. This is the heated leather seats, SatNav and sunroof package*.
It's got every feature previously mentioned in the Katana head/combos, with a few new tricks up its sleeve:
Newly designed semi-closed back cabinet. It's tough and road ready. If you put them side by side, its dimensions are on a similar scale to the Katana 100W 212 combo – so it won't be shy of air to push either!
Inside the cabinet is a BOSS Waza G12W, taken directly from the fantastic WAZA Amplifier cabinets and based on classic "green" 60s/70s speaker designs with higher power handling and BOSS consistency and quality built-in.
Dedicated front panel controls for Line Out Air Feel functions (previously only available through Tone Studio)
Cabinet Resonance front panel controls revoice the amp's resonance characteristics to mimic the sound of Vintage/Modern/Deep cabinets.
BUY THIS IF YOU: Want the very best that the Katana range has to offer. No compromises!
(*the Katana-Artist does not have heated leather seats, SatNav or sunroof)
BOSS KATANA AMP RANGE – IN SUMMARY
Related Articles
EXPLORING THE HIDDEN POWERS OF THE KATANA GUITAR AMP
DEVELOPING THE BROWN SOUND
Related Products