What is looping? How do I get started? How do I choose the right loop station?
If these are the kinds of questions you've got, you're absolutely in the right place. 
Our loop stations have taken performers from humble beginnings busking on the street all the way to sold-out stadiums. Learn more about how you can use looping to take your live performances to the next level, inspire creativity in the studio or at home, and just generally, have fun!
The Definitive Beginner's Guide To Looping
Live looping has quickly become a technique that has taken the art of live performance to a whole new level! Any musician, from bedroom producers to guitar gods, can add their own flair to their part, solo or track by using a Loop Station live on stage. Looping can even inspire a completely new song when used in the studio! But what is looping and how can you add it to your repertoire? Let's start at the very beginning…
Looping is the technique that allows a musician to record a snippet of what they are playing to form a repetitive loop, or "phrase" in real-time. What you do next with this phrase is up to you! Use it as a backing track, as a rhythmic/percussive effect, as a soundscape… the options are limitless. But don't stop there! The real power of looping comes from "overdubbing".  This is the process of recording over the previously recorded phrase. 
The Ultimate Guide to BOSS Loop Stations
BOSS have constantly remained at the cutting edge of looping technology and are today the undisputed product leader of this worldwide phenomenon. BOSS Loop Stations have evolved to meet this growing demands of musicians worldwide. 
This began with the release of the first Loop Station, the twin pedal RC-20 in 2001. Today, with a more comprehensive lineup of looper devices available than any other single manufacturer, BOSS Loop Stations satisfy guitar players, beatboxers, DJs, accordion players, singers and producers within the audio looping community. With such a diverse selection of musicians using the wide range of BOSS Loop Stations, it's fair to say that there is a BOSS Loop Station for everyone. 
Tabletop Loopers and the BOSS RC-10R
The Definitive Guide to Tabletop Loopers
When most people think of a BOSS RC Loop Station, they envisage a big red stompbox. Floor-based loopers are excellent for instrumentalists who want to loop, but still need their hands free.
However, in recent years, DJ/beatbox artists, vocalists, producers and many others have embraced a huge new movement in the looping scene – the tabletop loop station. Enter the BOSS RC-202 and RC-505.
On the face of it, the distinction between floor and tabletop loopers is pretty self-explanatory. One sits on the floor and is operated by foot, while the other sits on a tabletop, or a stand, and is operated by hand. In reality, using a tabletop looper is a whole different experience – it's more tactile than using your feet, and more visually engaging for the audience, allowing you to create an immersive, impressive performance.
4 Ways the BOSS RC-10R Can Inspire Creativity
The RC-10R is a new breed of loop station which combines a song-structured two track loop engine with high quality drum grooves from the extensive Roland sound catalogue. This is an amazing new tool for musicians, whether it's used to bring a new level of dynamics to your live performance, or to help you sketch out songs in the studio!
How does the RC-10R work? Well, it's based around two key ideas – song-structured looping, and smart drum grooves. While the classic RC-30 uses two parallel tracks (basically, two tracks running next to each other), the RC-10R uses two tracks in series (two tracks running one after another). This allows you to record separate verse and chorus loops and switch between them at the press of a footswitch!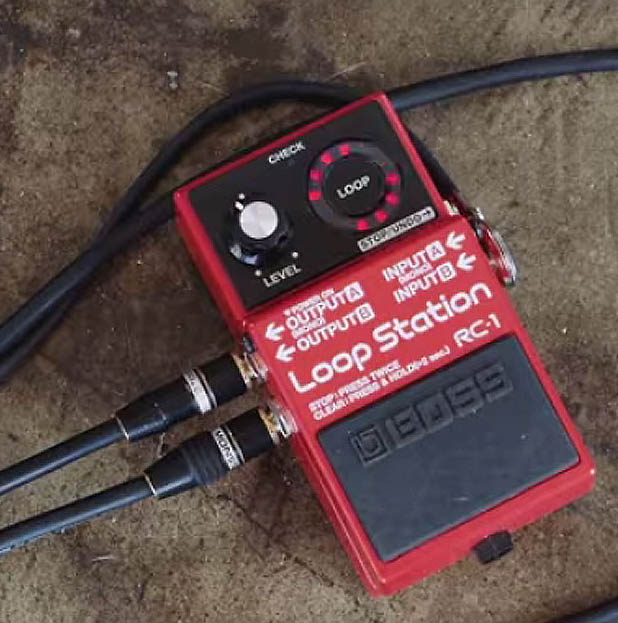 Taking Control of Your Loop Station
BOSS Loop Stations are famous for their industry leading flexibility right out of the box. They also provide a serious level of functionality for the beginner or intermediate looping musician.
However, for the advanced user who wants to fully extend their looping creativity, a higher degree of control is often required. Foe example, whether or not to enable precise loop operation, control multiple operations simultaneously or to even synchronise multiple Loop Stations.
All BOSS Loop Stations allow the user to expand the control they have over their machine's powerful internal functionality. Every single Loop Station in the BOSS lineup enables a user to add external footswitches. This provides simple and swift access to common functions. 
Here Are More Articles You May Like
Guitar
Ready to dive into the world of guitar pedals but don't know where to start? Here's a quick guide about where to start.
Read More »