Get The Most Out The DJ-202 with The Drum machine
The DJ-202 is a great tool for people who are either learning how to mix or looking for a compact and powerful Serato controller. Beyond just a controller, the DJ-202 also has a drum machine tucked under the hood, giving you access to legendary Roland drum tones form the TR-808, TR-909, TR-606 and TR-707.

Recommended article: TR-808 Drum Machine Flashback
If you're looking for a guide on how to DJ, there's tonnes of great content out there covering beatmatching, mixing, track selection and all the nuances that go into an amazing set. Check out our article below if that's what you're after.
Recommended article: How to Craft a Good DJ Set
So instead of going into that, let's talk about the things that make the DJ-202 truly unique.
Contributed by Jack Woodward for the Roland Australia Blog
Use Case #1 - Transitioning between songs
Before diving straight in to how to use the DJ-202 drum machine, let's consider why you might want to use it. One great way is to assist in transitioning between tracks.
Programming a beat in the style of the music you're mixing can be a really effective way to smooth-out the blend between songs. This works by introducing an element that remains constant while mixing.
To do this, have a pattern programmed and start the sequencer right before you're about to mix (we'll get into exactly how to do this in a bit). Then, mix as normal between 2 songs, with the drum machine running the entire time.
When the new track is about to kick into gear, take out the drum machine in whatever way you'd like. Either remove single elements one-by-one by removing sounds from the sequencer, or switch through patterns with variations of the groove to keep it interesting. Blend out the drum machine channel using its volume knob or do a hard cut by pressing START/STOP at the perfect moment, it's up to you!
To start, press SEQUENCER on both the left and right channels. You should see PARAM – lit up on the left and PARAM + lit up on the right. This allows you to sequence a beat using all 16 pads on the controller.
To hear the sounds you'll be sequencing, hold SHIFT and press SEQUENCER twice. Now you can preview the sounds and finger-drum a beat using the pads. This is called Instrument Play Mode. You'll know you're in this mode when the SEQUENCER button is flashing quickly.
To change the drum kit, hold SHIFT and press a pad. The first pad is the TR-808, the second is the TR-909, the third pad is the TR-707 and the fourth is the TR-606.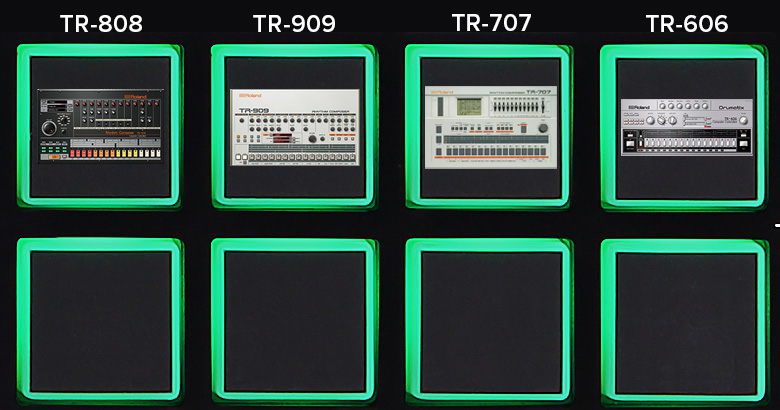 To exit Instrument Play Mode, press the SEQUENCER button again.
When the SEQUENCER button is solid green, you're in Sequencer Mode and can begin programming a beat. From here, you can either sequence the DJ-202's built-in drum machine, or samples from Serato. Hold SHIFT and press PARAM – to programme samples from Serato. Or, hold SHIFT and press PARAM + to programme the drum machine.
To see your samples in Serato, press the airhorn along the top row and your samples will appear below the tracks.
To change the samples, hover over a sample with your mouse and press the eject button to clear that sample slot. Now, you can simply drag in your own samples to play and sequence using the DJ-202.
For now, let's focus on programming using the inbuilt drum machines. Hold SHIFT and press PARAM + to make sure you're programming the drum machine.
To choose a sound to programme, hold SHIFT and select one of the pads. Below is a guide on what sound are on which pads.
DJ-202 Drum machine Instrument Layout
Select an instrument and begin laying down a beat using the pads. When you press a pad, it will light up green, meaning the sequencer will play the sound when it reaches that pad. Experiment with placing a sound on a few pads and hitting START/STOP to hear the beat.
Programming and saving patterns''​
When you're comfortable programming a beat, the next step is to learn how to save patterns and switch between them. This is where the DJ-202's drum machine really comes into its own as a performance tool.
Firstly, to enter Pattern Mode, hold SHIFT and press SEQUENCER. The SEQUENCER button will now be flashing slowly. From here, you can hit any pad to launch the pattern saved onto that pad. The DJ-202 comes with patterns pre-loaded so you can play these and get a feel for launching patterns.
Patterns are automatically saved, so there's no need to remember to save a pattern once you're done programming it.
Launching patterns is quantised, so while the sequencer is running, patterns won't start playing until the next downbeat. This is a great feature for keeping you in time as you switch between patterns.
Create a simple beat variation using patterns​
Here's a really simple way of using this is to create a beat: Create a groove on a pattern, then switch to another pattern and create the exact same groove but remove the kick drum. Now, play the first groove, then switch to the version without the kick drum, then back to the version with the kick drum. This creates a super simple variation which is great for building tension before letting the beat drop again.
To clear the pre-set patterns, hold PARAM – and press a pad to delete the pattern saved on that pad. You'll know which patterns can be deleted when the pads flash green.
Quick tip: Remember that you're also able to programme samples from Serato into the sequencer.
Use case #2 - Programming a DJ Tool Track
Once you've got the hang of programming and performing patterns, the full scope of the sequencer becomes available to you. One great way of using this function is in the context of a DJ tool track. 
A DJ Tool is essentially a stripped-back track that allows you to transition between tracks or switch gears into a new vibe. They can be thought of as a "palette cleanse." They're most common in house and techno and are often very percussive & rhythmic, without ear-grabbing melodies or hooks.
Using the drum machine in the DJ-202 is a great way of composing a tool track that you can use in-between tracks in Serato. This can be as simple as programming a few patterns with variations and assigning them to pads.
Simply blend the sequencer into the mix as you fade out a track, then perform the beat live by switching between patterns to create an arrangement. Once you've let that settle for a while, begin mixing in the next track, now with the freedom to go in any direction you'd like.
Syncing the sequencer to tracks in Serato
To use the sequencer at the same time as a track from Serato, it helps to make use of the SYNC function. Pressing the sequencer's SYNC button will automatically sync it to the BPM of Serato.
When you start the sequence, it can be a good idea to cue it in your headphones to make sure it's in time before bringing it into the mix. If you've started the sequencer out of time, use the jog wheel of the track that's currently playing to get it in time before bringing it in.
Use case #3 - Performing an intro track
Lots of DJ's have a signature track that they play at the beginning of their set to establish the vibe of what's to come. These are a great way to introduce yourself and your sound to the crowd and build tension & excitement.
With a combination of drums and samples, you can create a simple track to establish your set. This can include samples that are unique to you, such as stings and producer tags.
The benefit of performing using the DJ-202, rather than a track from Serato is you can control the flow and length to suit the gig and adapt to the crowd.
DJ-202 Drum Machine Cheat Sheet