Article written by Magesh for Roland Australia
When I was just starting my career as a professional drummer, I remember auditioning for a lot of bands. I would learn the drum parts meticulously, to give myself the best chance of getting the gig. Even so, standing outside a rehearsal room with 10 other drummers, waiting to audition, was really stressful.
The funny thing I noticed was, that I was always stress-free after the audition no matter how it went. This was also the case after a practice session and gig. In this article, I want to look into how playing the drums reduced stress and anxiety.
Physicality and Coordination
I have been playing Roland's electronic drums for the last 22 years. To me, they are so close to the feel of a real drumkit. If I put headphones on and start playing along to my favourite songs, I quickly notice the change in my mood.
This isn't necessarily the same when I play the piano. Playing the drums takes a great amount of physicality and coordination. This physical release is amazing for decreasing stress levels and is the perfect way to relax after a hard day's work.
All Drummers Gain the Benefits!
The best part of this is, that it doesn't matter if you are a professional drummer or if you are just playing beats in your garage. The health benefits are the same.
It also takes a massive amount of focus to play the drums.
If you were to play along to a three-minute pop song, that would be over a hundred bars of music. There would be a pattern for the intro, a beat for the verse, and a separate beat for the chorus. Not to mention all of the fills in between!
If you played along to 10 songs that would be 30 minutes of deep focus. (The irony is it would probably be 30 minutes of stress and anxiety for your neighbours!)
Concentrating on the beat puts you in the moment.
Even if you make a mistake, you are still in the moment trying to work out what went wrong. The point is, that it's hard to be anxious and focus on the music at the same time. 
I feel one key element to playing the drums is often overlooked. I'm referring to breathing. Singers and horn players are taught breathing exercises in their first lesson. As drummers, we are constantly in motion. Hands and arms going one way, feet doing independent parts and if you are playing heavy metal, you are most likely banging your head!
Sitting up straight is the first step to breathing properly. It is incredibly easy to slouch on a drum stool. Doing so stops you from having the ability to take deep breaths. From my experience, deep breathing was a great way to lower stress. 
So, what's the easiest way to know if playing the drums is helping you reduce stress and anxiety?
Simple answer: Make a set time to practice each day. Then see how you feel after your practice session. It doesn't have to be a long time; 15 to 20 minutes is fine.
It's important to keep your practice time the same every day. If you make it from 5.45 pm to 6.05 pm, it is easy to commit to as it is in your schedule.
The worst thing to do is to say you will practice when you have free time. We rarely have 'free' time. There are too many distractions in today's technology-driven world. I'm talking about Facebook, Instagram, and the person who uploads hilarious cat videos to YouTube. (Although these cat videos may also reduce your stress levels!)
We are now at a moment in history when our access to information is relentless. Also, our culture doesn't reward behaviour that focuses on us slowing things down (although I think this is exactly what needs to happen to lower stress levels).
Whether you are playing drums in an orchestra, in a cover band, or just playing in your bedroom, you will experience what drumming can do for stress and anxiety. Regardless of how good or bad you sound!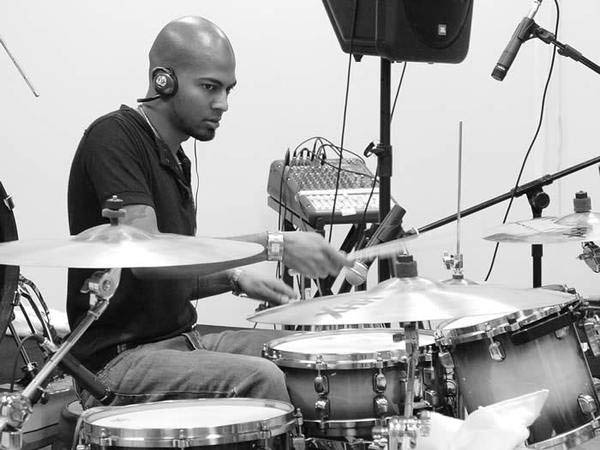 Magesh has been a music teacher for 23 years. He has also worked as a session musician for some of the world's biggest pop stars, including Lionel Richie, Ricky Martin, Rhianna, Nelly Furtado, Chris Brown, Kimbra and Vernon Reid (Living Colour).  Magesh was ranked one of the 'Top 20 Millennium players' by 'Drumscene magazine and appeared in 'Modern Drummer' (U.S.A), Rhythm (U.K), Percussion (Italy), and 'Newsbeat (Canada) magazines.
Magesh currently teaches students all over the world.  
https://www.mageshdrumteacher.co.uk/