If there's any single product that's revolutionized the way we play drums today, it's the humble electronic kit. Seriously, what's not to love? Unlike their acoustic brethren, electric kits are compact, lightweight, boast a vast library of sounds and perhaps most importantly can be played quietly with a pair of headphones, letting you practice any time you want without provoking the ire of your neighbours.
Whether you're a total beginner, a multi-instrumentalist looking to sharpen your skills, a parent looking to buy a child their first kit, or even a hobbyist who just wants to bang the tubs without any fuss, there's nothing better to keep you drumming than an electronic kit.
However, not all electronic kits are created equal, and it's important to make sure you've made the right choice for your needs.
What we'll cover in this article:
I own an old electronic kit – can I get it back into playing shape?
Should I buy a second-hand kit? Can I upgrade it?
Should I just buy new? What do I need to be conscious of?
If one of these options sounds like you, then you've come to the right place! To help you make up your mind, let's run through the situations you might face when buying or upgrading an electronic kit, to make sure you get the most out of your drumming experience.
Contributed by Will Brewster for Roland Corporation Australia
I own an old electronic kit – can I get it back into playing shape?
A lot more people than you think have an old electronic kit gathering dust in the back of their garage. Maybe you bought the kit many years ago and lost interest in learning, or got turned off by the kit's poor build quality or uninspired sound library.
If this is you, don't fret – you might have just not had a proper introduction to how good electronic kits can be. Things have come a long way in the electronic drum world over the past decade, with features like responsive mesh heads, multi-zone digital triggers, vastly improved sound variety and quality, as well as multi-channel recording, Bluetooth audio and the ability to load your own samples becoming staple features of modern kits.
Back to the question at hand – can you get your dusty old kit back up and running?
The short answer is, probably (barring any water damage from the garage). But it's important to think about why you stopped playing that kit in the first place. You don't want to fall prey to the same reasons you stopped playing last time – the idea is to keep drumming!
If you stopped playing because the sounds were uninspiring, then you could potentially replace the sound module with a newer one.
On the other hand, maybe you gave up on your old electronic kit because the rubber pads just didn't feel any good to play. In that case, you could try and buy new mesh pads to plug into your old module.
However, each of these scenarios presents an issue – combining old and new technology (and this is just assuming that they are even compatible) is likely to mean that either way, you won't get the full benefit of the new parts that you're buying. And by the time you replace all the weak links in that chain, you might find that you've essentially put together a brand new kit, piece by piece (which is probably a much more costly exercise than the alternative).
Should I buy a second-hand kit? Can I upgrade it?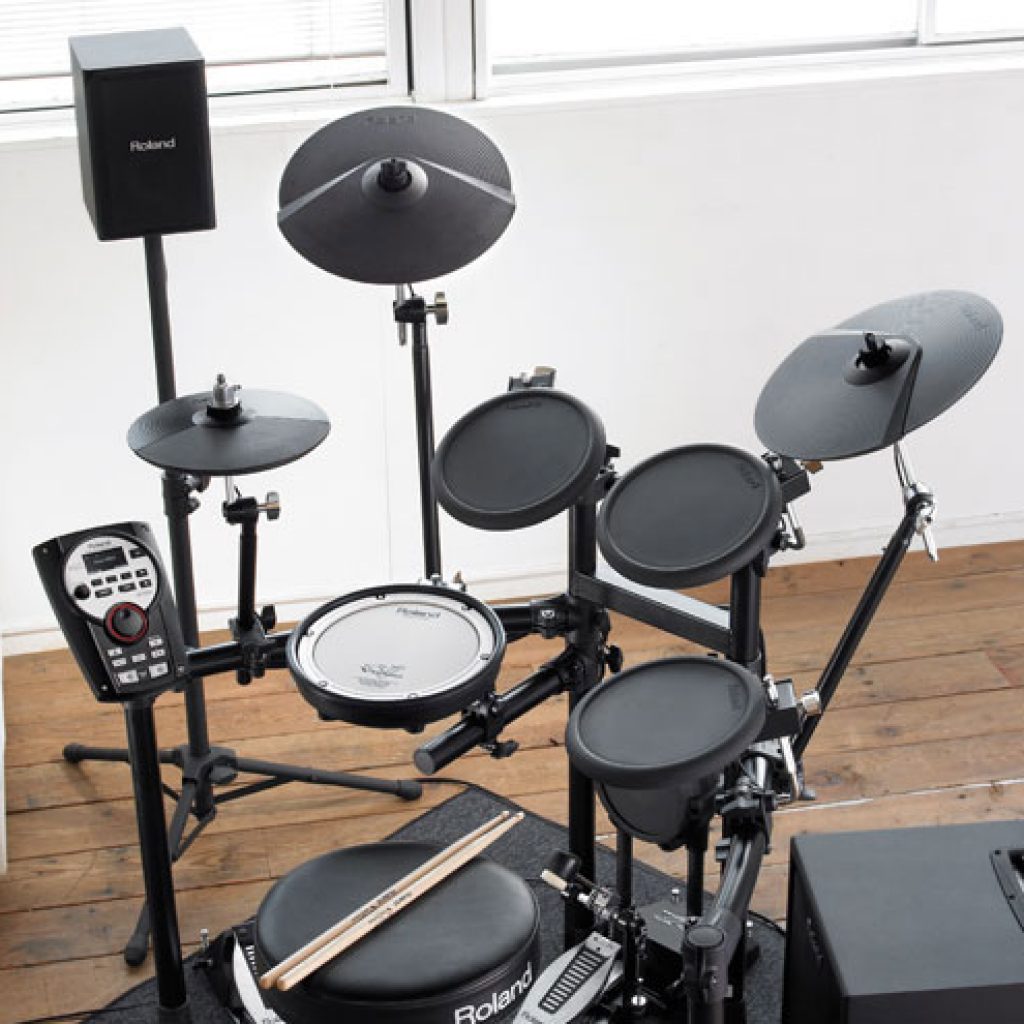 Perhaps you've stumbled on a bargain for a decent second-hand kit on the internet, or your friend is willing to sell you their old electronic kit for mate's rates. Before you jump to make a decision, it's worth going over a few things to make sure buying second-hand is the best choice for you.
One really important thing to be mindful of when buying a used electronic kit is that it's likely lived a long life before making its way into your possession, which means it might need some TLC before you can get the most out of it.
After heavy use, second-hand kits can be prone to a number of issues such as worn-out heads, unpredictable triggers or broken connectors. Remember, drum kits are hit hard and hit often, and it's important for all components of the kit, including the cymbals, pads, rack and electronics to function well in order to function as designed.
Most electronic kits also require a service every ten years or so to replace the module battery, so it's important to enquire about the service history with the previous owner if possible.
Another thing to take into consideration is whether the model you're considering truly fits your needs. If it does, that's fantastic! However, if you're choosing to go second-hand due to cost or convenience, it might not be quite the exact configuration or specification that you would pick, in an ideal world. Given the choice, maybe you'd choose the model with more toms, or the one with Bluetooth, or the one with a proper hi-hat on a stand.
Of course, you can always upgrade your second-hand kit with these new parts, but then that's more time sunk into researching features and compatibility, hunting down the right parts, trying to figure out how to connect it all. Precious time that you could be spending drumming! At the end of the day, while you might save some money up front, by the time you expendhile you might save some money up front, by the time you expend the really wanted, you might find that it would have been easier just to buy new all along effort and further cost to try and upgrade the kit into what you really wanted, you might find that it would have been easier just to buy new all along… which brings us to:
Should I just buy new? What do I need to be conscious of?
A quality, contemporary electronic kit with all the latest bells and whistles will almost always be the best option for any drummer. It's certainly going to be the easiest!
When you purchase a new electronic kit, you're guaranteed to get a drum kit that works straight out of the box without fault, and you can rest easy knowing that your kit is supported by a full manufacturer's warranty as well as current replacement parts and software updates. You'll also be less likely to need to shell out for extra modifications to get the sound or performance that you're after, streamlining your learning process and letting you sit down at the kit and start playing without any worries.
One of the major perks of buying a new electronic kit is obviously having access to the latest technology, and for many, this is the deciding factor when looking to buy new. For starters, modern kits include superior dynamic sensors that allow for a much more organic and expressive playing experience, while flagship models like the V-Drums Acoustic Design VAD706 use real wood shells in a range of wraps and high gloss finishes to give you the most authentic experience.
The ability to access and edit a vast array of drum sounds is also very easy with V-Drums.
Mid-level models, such as the TD-27KV, offer more than 700 professionally recorded samples of classic and modern kits with control over parameters like pitch, tension, room type and damping, as well as access to legendary sounds from Roland's game-changing range of drum machines to cover contemporary pop, hip-hop, R&B and electronic flavours.
The latest generation of Roland electronic kits also features PureAcoustic Ambience modelling technology, letting you adjust microphone positioning and tweak your overheads via the inbuilt mic simulator for a fully immersive editing experience. Powerful multi-effects engines allow you to add EQ, compression, reverb, overdrive, delay and other effects to emulate just about every iconic drum sound in music history, while top-tier models like the TD-50K2 and KV2 feature a dedicated mixer panel for immediate tone tweaking.
Being able to load your own WAV samples is also a handy way to get experimental with your electronic kit. For unlimited creativity, the ability to load your own favourite sounds and loops to trigger directly from the kit is now possible on even the TD-17 Series V-Drums, making it easier than ever before to tailor your own playing experience.
Features like MIDI and audio-over-USB also let you record your entire kit into your DAW of choice with a single USB cable Meanwhile, other kits with multiple audio outputs can prove to be incredibly versatile for stage or studio use, particularly if you want to deep dive into mixing each piece of your kit.
Adding to that, Bluetooth functionality is becoming more and more important for the modern drummer when looking to purchase an electric kit. with entry-level electronic kits like the TD-07DMK being an affordable way to access these features without breaking the bank. Simply connect your smartphone, and you'll be able to stream audio directly into the kit's module to feed into your headphones or external amplifier, letting you play along to tracks and lessons while recording directly into the module to share and critique later on – all without missing a beat.
Although it might seem like a big investment, if your aim is to get back into playing right away with an inspiring kit, buying a brand new kit will almost certainly be the easiest pathbrand new kit will almost certainly be the easiest path. Having an electronic kit that looks good, feels good, is fitted with all the latest technology and is inspiring to play will make all the difference in your drumming endeavours, making sure you can stay worry free and focus on the thing that matters the most: playing drums!