Every once in a while, a piece of technology comes along that seems to be made just for you. The Roland V-8HD is one of those, and it stands alone, in the crowded switcher market, due to loads of professional features, and an affordable price point.
For starters, the design of the V-8HD is clean and intuitive. Why is this so important? Anyone who has been a 'single-operator', managing a live event while streaming, can tell you that a well thought out interface makes life a lot easier. Of course, being hardware based is a BIG plus! Here are a design few features that make the V-8HD so special:
Onboard Multiview – great for monitoring video inputs, Program and Preview outs and accessing menu functions
T-Bar – everyone loves a T-Bar for controlling cross fade transitions
Large channel buttons, in three rows, for simple control of sources with Preview, Program and Aux sends
Easy access and complete control of compositing features including two PnP and a DSK channel
The V-8HD has an HDMI workflow which includes:
Eight inputs (two include onboard scalers)
Three assignable outputs, including one for Multiview/Menu if needed
18-channel digital audio mixer that can also be managed independently using a tablet.
Remote control software (RCS) that offers easy access to features without menu diving or an additional control surface for a second operator
Professional Features in the Version 2.0 Update
The V-8HD continues to evolve with Version 2.0 update, adding next-generation cue management and live show automation tools that make tough production tasks simple. The update brings many new features introduced with the flagship V-160HD, including macros, advanced sequencing, transparent PNG image support, and more.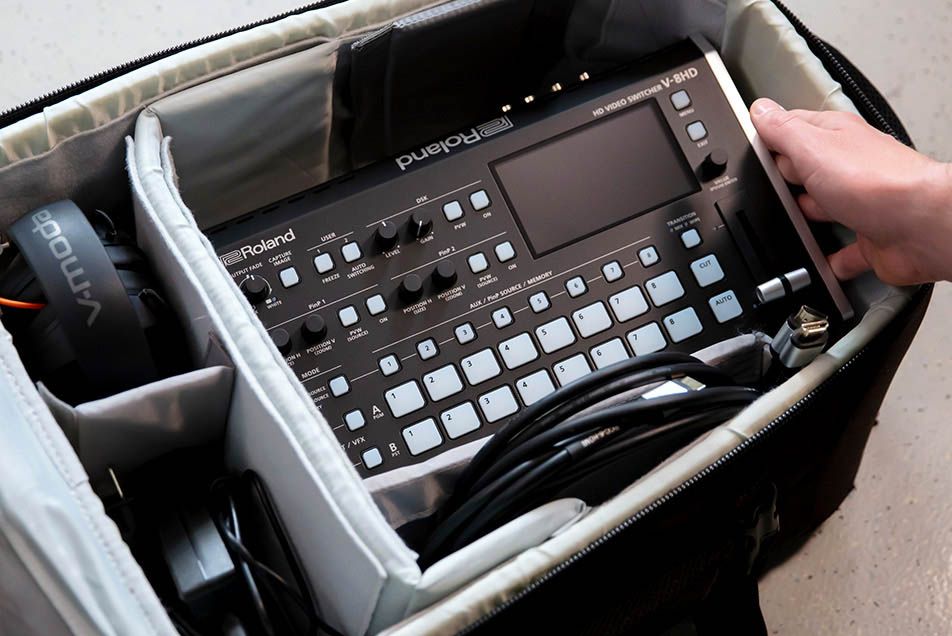 Event Production Houses – Hybrid Events are here to stay! Presenter confidence monitors, livestreams, and recording feeds often require different visual content from the main program output. The V-8HD has you covered with assignable buttons for sending any of your connected input devices to a dedicated aux output without affecting the main feed.
Prosumer Content Creators – Capture everything 'live' (8 source inputs!) and record in full HD using Roland Capture software. You can then export the finished product in multiple formats for immediate release throughout your content funnel.
Live Stream Professionals – You can synchronise the aux output with the program output, giving you a built-in 2x distribution amp. By adding the UVC-01 USB Video Capture interface, you have a plug-and-play solution for sending video and audio to computer-based streaming platforms like Facebook Live, YouTube, Twitch and Zoom. You can also stream to OBS Studio, StreamYard and other professional streaming platforms.