As you know, Bluetooth technology is everywhere these days. You've used it for hands-free calls, or with your wireless keyboard. Bluetooth's applications in a piano, however, are far more diverse, and bring more benefits to your piano playing, learning and enjoyment!
Whether you're playing for pleasure after a time away from the piano, are an advanced player, just starting, or have kids learning, there are many reasons to take advantage of today's technology to help you enjoy and continue with the piano.
Bluetooth has the potential to help you with your Piano in these ways:
Playing
Practising & Learning
Staying Focused and Motivated
Staying in control
Music Creation
Contributed by Rudi Zarka for Roland Corporation Australia
1. Playing - Get Inspired, incorporate YouTube and online learning into your piano
Do you get inspired by watching videos on YouTube of your favourite artists? What about tutorial videos on how to play songs? You-Tube content these days is incredibly varied with extremely useful and high-quality content available for anyone to use.
Have a look at this great tutorial: Pianote Bohemian Rhapsody Tutorial
Make the most of these with your Bluetooth Audio equipped piano. You can stream your favourite tutorial from your iPad or Android Tablet through the piano's speakers while you play along with it. Not only is the audio from the video going to be enhanced through your piano's speaker system, but you'll be playing and having fun as well!
Just something to remember, Bluetooth audio on Pianos is not designed to stream audio from the piano to Bluetooth headphones, but rather to stream audio from your smart device to your piano's speakers as described above. If you are streaming YouTube or tutorial software through to your piano, and have standard headphones plugged into the piano's headphone socket, you will hear both YouTube and your piano's sound through the headphones.
2. Practise and Learn - Interactive Bluetooth apps
Do you need a helping hand to facilitate your learning? What about getting the kids a little more excited and motivated about playing the piano and sticking at it?
Sometimes just having a tuition book in front of you is not enough to keep the enthusiasm and engagement high. Apps are all about making the piano experience less daunting, more fun, and of course interactive.
As an example, Roland's Piano Everyday app is a must have, and is a free download to use with Roland's HP-700 Series or LX-700 series pianos. This app connects to your Roland piano with Bluetooth MIDI as well as Bluetooth Audio. Not all pianos on the market have the benefit of being able to do this.
Audio content from the app will stream through your piano's speakers, but the app will also communicate with your piano via Bluetooth MIDI, allowing control of the piano's function panel remotely. Interactive learning is also enabled via the app and the piano.
3. Staying Focused & Motivated
One of things that is always on people's minds when deciding to return to playing the piano, or getting kids started is, will the interest be lost? Will it just be a passing fad? Will I take too long to get any good?
There isn't always an answer for this, you need just to dive in! But the best thing to do is to have tools available to you to help assist the piano journey. Piano Everyday lets you browse and purchase over 70,000 different musical score from a wide variety of genres. You're able to browse on your smart device during your lunchbreak for instance, and choose what you're going to learn, even have a listen before you get home. It's a great way to stay connected to your piano learning throughout your day.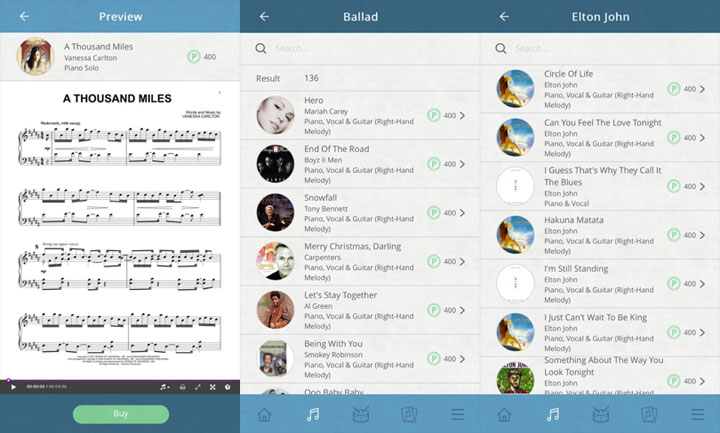 Of course, there's a lot more on-board than downloadbale sheet music. You can use the app to drive your HP-700 Series or LX-700 series piano. Choose your sounds by name and category, control dual voice layers, use the on-board backing tracks, record your performance to the app on your device, the list goes on! There is even a comprehensive practise diary with recommended practice ideas for songs.
If this all sounding appealing to you but you were hoping to tap into this technology at a lower entry price, fear not! Roland provide a range of digital pianos which work with a similar app called Roland Piano Partner 2.
The Piano Partner 2 app works with the following current models: FP-10 ,FP-30, F-140, RP-102, RP-501, FP-60 & FP-90
4. Staying in Control – Fine tuning & voicing the sound of your piano
If you love playing piano there's a good chance, you'll be always wanting to have you piano sounding the way YOU like it! This can sometimes be difficult to achieve as every home environment is different. With an acoustic piano or traditional piano with strings, a piano tuner/technician would prepare your piano in your home and voice it according to your room and to your tastes.
On Roland's HP-700 Series or LX-700 series pianos , you are able to do this yourself with the Piano Designer app. Unlike many other pianos on the market this allows you to fine tune the voicing (mellow-bright) and pitch of individual notes on the piano just like a piano technician would on an acoustic instrument. You can save your favourite settings to recall at any time. This level of control will let you get your own tailored Piano sound in your room.
5. Music Creation – Get the right side of your brain working!
Perhaps you like playing piano, but need some extra stimulation to keep the interest going and to diversify your musical experience? There are many other apps which can be connected with Bluetooth MIDI to your Roland piano such as Apple's GarageBand.

This app is really groundbreaking in what it does for almost no financial outlay. Apart of course from you apple device! Play the sounds in GarageBand from your connected piano.
Perhaps you have teenagers who are playing piano, but they are also into modern electronic music? No reason why they can't align the two interests and extend their piano playing. Connect any of the Roland pianos listed in this article with Bluetooth MIDI to Roland' new Zenbeats app. Create and compose with a stunning range of pre-loaded content or if you like, just have a jam and enjoy yourself. Now of course this could be for you as well not just the teenagers!
As you can see there is a lot to be gained using Bluetooth technology. In addition to providing real tools to help your musical progress, there is also a lot of fun to be had which is always a good thing.