BOSS have constantly remained at the cutting edge of looping technology and are today the undisputed product leader of this worldwide phenomenon. BOSS Loop Stations have evolved to meet this growing demands of musicians worldwide. 
This began with the release of the first Loop Station, the twin pedal RC-20 in 2001. Today, with a more comprehensive lineup of looper devices available than any other single manufacturer, BOSS Loop Stations satisfy guitar players, beatboxers, DJs, accordion players, singers and producers within the audio looping community. With such a diverse selection of musicians using the wide range of BOSS Loop Stations, it's fair to say that there is a BOSS Loop Station for everyone. 
With a range of BOSS Loop Stations to choose from, it can be somewhat confusing at times. This guide will unravel the differences between the models. We will begin by going through the range of BOSS Loop Stations and discuss their unique features, so you can determine which Loop Station will be the perfect fit for you and your music.
Note: this article deals with the floor-based loopers of the RC range – if you're a vocalist, DJ/beatbox artist or producer and have the freedom to utilize your hands to loop, you might want to check out the world of tabletop loopers instead.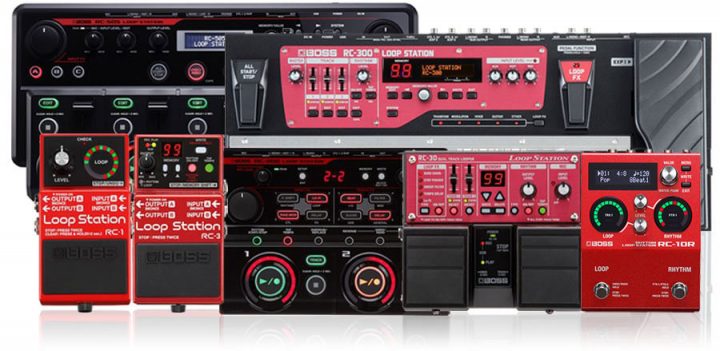 Contributed by Matt Walsham for the Roland Australia Blog
Section 1: Loop Station Basics / Single track Loopers
What is a looper?
At its heart, a looper is simply a digital audio recorder/playback device that offers the user the following features:
Instant recording at the touch of a button or footswitch
The ability to continuously "loop" playback of the stored recording
The ability to add an infinite number of overdubs to the recording
A looper is one of the most creative tools a musician can own. At the most basic level, a looper is a very effective practice tool. You can record a simple 4-bar chord progression and perhaps layer a percussion beat on top of it. As this loop recording infinitely plays back on itself, you have created your own backing track to play along with.
If you're a complete newcomer to the world of looping, make sure you check out our beginner's guide to looping before you continue reading. 
Otherwise, loop onwards!
At a higher level of looping, the ability to create multiple layers of music by yourself is an extremely addictive concept. Used effectively, loopers create vast soundscapes of evolving music that can reveal surprisingly complex and emotive performances.
Well-known musicians such as Ed Sheeran and KT Tunstall have thrust looping into the public eye. This has resulted in musicians everywhere wanting to create their own single-person performance masterpieces.
Core BOSS Loop Station Features
Important Note: All BOSS Loop Stations consider both the pro-user as well as the at-home performer.
From the most value priced Loop Station (RC-1) through the entire range, the features you can find on every Loop Station are…
Sound on Sound Recording with Unlimited Overdubs
The very core of the looping concept. BOSS Loop Stations can all facilitate creation of as many overdubs as you can conceive.
Full Stereo Signal Path
ALL BOSS Loop Stations feature ¼" jack, true stereo input and output. This is not just useful for stereo instruments such as keyboards. Importantly, it means that 2 completely separate mono instruments (e.g. a guitar and a bass) are able to independently enter into the same looper, then output to separate devices.
UNDO/REDO Function
Any experienced Looper will tell you that there are moments when one overdub just doesn't go quite right. All Loop Stations feature the UNDO function to remove the last overdub you recorded.There is also a REDO function to drop it back into the mix.
Contained within BOSS's classic compact pedal format, the RC-1 is the most value-priced looper in the Loop Station lineup. It's certainly a great Loop Station to learn the basics of looping, but don't think it's only for beginners. The RC-1 delivers solid, no-frills, on-the-fly looping performance with legendary BOSS reliability. This is perfect for even even the pro player who wishes to enhance their performance with a touch of looping. Not only that, it comes with 12 minutes of looping time available. That's enough for almost any single looping application.
As well as BOSS' core Loop Station features, the RC-1 features….
Large Loop Indicator
The large red & green loop indicator on the RC-1 gives excellent visibility of recording/overdub/playback status. As well, the "rotating wheel" display gives you a visual indication of the length of the loop. Very handy indeed!
STOP/UNDO Footswitch Jack
The STOP and UNDO/REDO functions can be performed via double-tapping or holding the RC-1's footswitch pad. Importantly, the facility to add an external footswitch allows those functions to be controlled with instant precision. Also, the external footswitch jack can support either a single or dual footswitch (e.g. BOSS FS-5U, FS-6 or FS-7)
RC-1 is most suitable for:
Live musicians that wants easy access to no-fuss stereo looping
Loop-curious musicians
RC-5 is the most advanced compact looper from BOSS (replacing the classic RC-3) – with class-leading sound quality, 99 memory slots, 50 rhythms + 7 drumkits, and MIDI expansion/control.
Colour-Coded Display Screen
The display screen on the RC-5 gives you an immediate, vibrant colour cue of what looping mode you're in – red for record, green for play, yellow for overdub. You can set different display modes to show the essential information for your playing style – beats, measures, memory name or even just a big bold PLAY/REC/DUB status indicator!
99 Memory Slots of Class-Leading Sound Quality
Featuring best-in-class 32-bit audio, the RC-5 can capture 13 hours of stereo loops with full audio fidelity – ensuring that your loops stay crystal clear even with multiple overdubs. 99 onboard phrase memories let you store loops as fast as you can create them. In addition to your looped audio, each phrase memory includes the selected groove and drumkit, so it's ready to recall for practice or performance.
Upgraded Rhythm Guide
With 57 preset rhythms and 7 different drum kits, the RC-5 is ready to elevate loop and practice sessions with inspiring grooves for any style. For each rhythm, A/B variations can be selected from the panel or controlled via MIDI while performing. The RC-5's looper engine also includes a cool reverse function that's great for infusing your music with fresh sonic colors.
Future-Proof with External Switches and MIDI
Deeper control via additional footswitches or MIDI ensures that the versatility of the RC-5 grows along with your looping abilities. Connect up to two external footswitches for direct control of many assignable functions, or an expression pedal for continuous adjustments. Players with advanced systems will love the TRS MIDI I/O, which saves space and enables remote operation from MIDI switchers and foot controllers, plus MIDI sync with drum machines and DAWs.
USB Audio
The RC-5 features the capability to import and export digital audio between the pedal and your computer in full 44.1 kHz 32-bit WAV format.

For the live musician, any audio that has been recorded into the 99 memory slots can be exported for storage. You can also save WAV files from your computer and into the RC-5, which is great for musicians who perform using backing tracks.

For the at-home player, the BOSS Tone Central website (www.bosstonecentral.com) contains a significant library of studio-grade backing tracks. These come in a variety of styles that can be imported into the RC-5 and played back for a virtual band jam.
RC-5 is most suitable for:
Loopers who require rhythm tracks and quantize functions
Musicians who play with backing tracks
Musicians who wish to record their performance and later download to PC
Section 2: Advanced Looping / Multi track Loopers
What is Multi Track Looping?
Now that you know the basics of looping, let's discuss multi-track looping. Multi-track looping is where your creativity can really flourish. This is because your looping options increase dramatically. Let's take a look at the difference between looping on a single track, and looping using multiple tracks: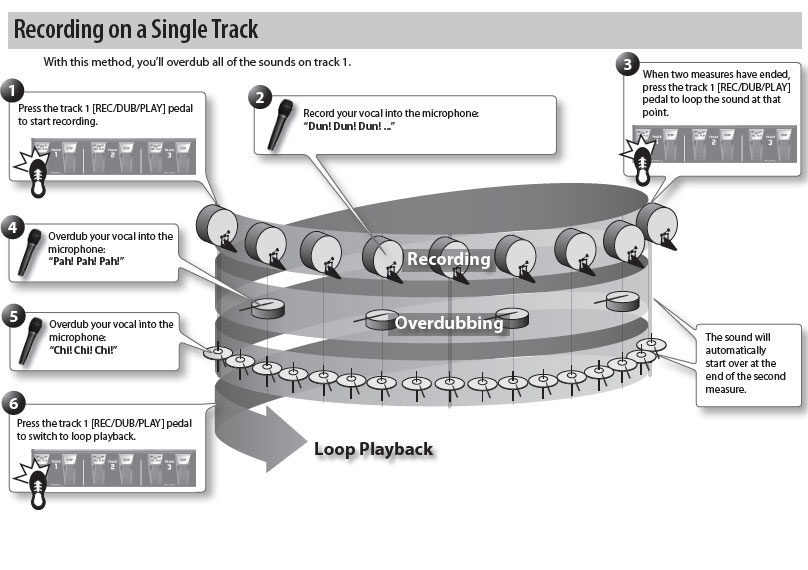 On any Loop Station, a track is created when you hit the record button/footswitch (1) and begin to record audio (2). Pressing the footswitch a second time (3) will immediately begin to loop the recording from the beginning and allow you to overdub additional layers of audio (4) (5).
You can perform an infinite number of overdubs on one track. However, once they have been overdubbed onto the track, they become permanent layers of the audio track. They cannot be manipulated independently.
A multi-track looper allows you to record on 2 or more tracks that can operate simultaneously. These can be independently controlled or manipulated. Let's consider a similar recording to our first example, but this time we'll record each instrument on its own track:
Independent Control
To the listener, this example will sound exactly the same as our first example. However, we now have the advantage that each instrument can be manipulated independently. You could choose to add a delay effect to only the hi-hat track. You can stop the bass drum track, whilst the others continue playback. This enables you to create different mixes on-the-fly.
Advanced multi-track loopers such as the RC-300 or RC-505 allow each track to be a different length:
LOOP SYNC feature enables you to change the loop playback behaviour to suit your creative whim.
Setting a track to ONE-SHOT playback allows that track to be played back once, without looping.
SINGLE TRACK PLAY means that the tracks will playback one at a time, rather than all simultaneously. This allows you to create Verse/Chorus/Bridge song arrangements.
Already, you can probably see why multi-track looping has a lot of potential for expanding your creativity! Let's take a look at the multi-track loopers available in the BOSS Loop Station lineup:
The
RC-10R
is a new breed of loop station which combines a song-structured verse/chorus two track loop engine with high quality drum grooves from the extensive Roland sound catalogue. This is an amazing new tool for musicians, whether it's used to bring a new level of dynamics to your live performance, or to help you sketch out songs in the studio!
Song-based looping
The two-track loop engine on the RC-10R works a little differently from the classic RC-30. While the RC-30 uses two parallel tracks (basically, two tracks running next to each other), the RC-10R uses two tracks in series (two tracks running one after another).
This allows you to record separate verse and chorus loops and switch between them at the press of a footswitch!
Smart drum machine
RC-10R is packed with high quality drum grooves and sounds, whether you're playing rock, pop, Latin, jazz or even if you want to get some 808 beats in there! There are over 280 onboard grooves to choose from.
As mentioned before, RC-10R is built for song-based looping, so each groove that you choose will have two separate verse and chorus drum parts which you can switch between via footswitch. To add an extra dimension of spontaneity and realism, you can trigger drum fills whenever you want!
Sync or swim
It should be clear by now that the most logical way to use the RC-10R is with your looped instrument sounds and the drum rhythms working in harmony to help you create tight verse/chorus arrangements to sing, jam, or write to.
However, you're free to decouple the loops and rhythm and instead tailor each to your specific needs – whether it's just using the looper on its own without the drums, or using the drum machine on its own as accompaniment with real-time fills and verse/chorus switching.
Flexible routing
If you choose to run the RC-10R straight into a guitar amp, the unit has handy filters that can be applied only to the drum sound, to give you as close to a full drum sound as you can get. Or, if you've got a PA, you can send the drums straight to the desk using one of the stereo outs.
RC-10R is most suitable for:
Soloists/duos who want to perform looping arrangements with verse/chorus structures
Artists who want a smart drum machine to enhance creativity and help the writing process
Although the RC-300 has been out for a number of years, it still reigns supreme as the heavyweight champion of floor-based looper pedals. For the advanced looper who builds their entire performance style around looping, the RC-300 is the one unit that rules all for pure creative control on the floor.
The feature set of the RC-300 is vast. As well as containing all the functionality of the RC-30, the RC-300 adds these powerhouse features into the mix…
3 Stereo Loop Tracks
Three individually controllable stereo loops yield another level of creativity available to advanced loopers. Each loop track has its own dedicated RECORD/OVERDUB and STOP footswitches and playback level volume slider on the control panel.
Each track is configurable separately for ONE SHOT or LOOP playback.
LOOP SYNC / TEMPO SYNC Track Settings
The LOOP/TEMPO SYNC options are an important feature of the RC-300 that dictate the playback behaviour of the 3 loop tracks.
LOOP SYNC is a selectable feature that synchronises all selected tracks to restart playback simultaneously each time the longest loop track restarts playback. Enabling or disabling for each loop track is possible.
TEMPO SYNC will synchronise (and quantize) all tracks to a single master tempo so all loops lock into the same timing. Tempo Sync can be disabled in order to create "free time" loops.
A vital feature of the RC300 is that your 3 loop tracks can be recorded with differing loop lengths. Experimentation with the Tempo/Loop Sync settings for each track can yield different and useful looping behaviours.
Single Track Play
Usually, the 3 tracks of the RC-300 will playback simultaneously. Setting the RC-300 to SINGLE TRACK PLAY behaviour means that only 1 loop track can be active at any time. Starting recording or playback of any track will instantly relegate any active tracks to STOP mode.
This means that you can use the RC-300 to create loops for various parts of a song structure – i.e. Track 1 for the verse, Track 2 for the chorus and Track 3 for the bridge.
Total Control
Footswitches: The RC-300 features eight integrated footswitches and an Expression pedal. This provides you with unparalleled control right out of the box. Additional Control (CTL) jacks on the rear panel allow you to expand your RC-300's functionality with up to 4 additional footswitches or 2 additional expression pedals.
Control Assigns: The RC-300 has immense capability for the user to control dozens of different parameters on the fly during performance. Along with the basics of recording and playing loop tracks, the user may wish to perform functions like stop 2 tracks simultaneously. They can also change FX parameters, change the playback level and deactivate the microphone, or any number of controllable functions. By using CONTROL ASSIGNS, these functions (and many more) can be configured to be controlled using either external control devices or by reconfiguring the RC-300's own footswitches.
MIDI IN/OUT/THRU: A full MIDI interface means that the RC-300 is usable in conjunction with other MIDI devices to sync your performances. If you and your bandmate both have an RC-300, then they can be synched to the same tempos and loop lengths via MIDI for perfectly synchronised performances.
Another example might be to link your RC-300 to a MIDI compatible lighting controller. This can be done to synchronise your light show with your loops.
For the user who wants the ultimate in footswitch control, any MIDI compatible floor controller (such as the Roland FC-300) can be connected and configured to control almost any function of the RC-300 at the user's whim.
Expanded Effects
The RC-300 features 16 onboard FX, including such useful tools as GT>BASS (adjusts a guitar's pitch and tone to sound like a bass), DELAY, ROBOT VOICE and TRANSPOSE (+/- 12 steps).
These effects are applicable to either a single track, multiple tracks, the master output, or even to the input signal.
Flexible Signal Routing
For the professional musician or advanced looper, flexible outputs are important in order to configure your rig in the most practical fashion.
The RC-300 offers options for input signals to route to one of 3 sets of outputs (MAIN / SUB / PHONES). In addition to this, playback of each of the 3 loop tracks are configurable to play via the MAIN, SUB or BOTH outputs.
RC-300 is most suitable for:
Musicians who want to push creative boundaries of looping
Instrumental loopers who wish to create complex compositions
Loopers who require maximum control on the floor
RC-500
builds on the legacy of one of the most popular loop pedals in the world – the RC-30 – and takes it to the next level. Whether you're a guitarist, singer/songwriter, or multi-instrumentalist, RC-500 is an invaluable creative companion, allowing you to craft real-time compositions with two loop tracks, mic and stereo instrument inputs, rhythms, and inspiring loop FX, all backed by premium 32-bit audio quality. As well as containing all of the features found in the RC-5, the RC-500 further adds:
Dual Stereo Tracks
Loops on the RC-500 can be recorded using TWO synchronised tracks. These two tracks resemble tracks on a multitrack recorder. Select which track you wish to record on (both tracks can be infinitely overdubbed). Each track has a dedicated playback volume control. Importantly, each track can be started and stopped independently of the other. This dual track functionality enables you to build songs using a variety of layers and shifting dynamics.
Footswitching Flexibility
The RC-500 improves on the classic RC-30 with three onboard footswitches that make it simple to control recording and playback, track switching, and more. These footswitches are fully customisable to suit your looping needs. For expanded operation, you can connect up to two external footswitches for direct control of many assignable functions, or an expression pedal for continuous adjustments
XLR Mic Input with Phantom Power
By having an XLR connector input available, any vocal microphone connects directly to the RC-500 with no need for external preamps or converter cables. The RC-500 even provides +48V of phantom power – required for high-quality condenser microphones to operate.
Onboard Loop FX
The RC-500 contains a completely new effects section compared to the RC-30, with effects designed specifically to enhance the impact and creativity of your loops. These effects include Scatter, Repeat, Shift and Vinyl Flick. You can easily assign these effects to any of the three footswitches on the unit; alternatively, trigger them from an external footswitch or MIDI controller.
RC-500 is most suitable for:
Singer/Guitarists who wish to loop both voice and instrument
Instrumentalists who wish to loop any instrument using a mic
Loopers who wish to explore the flexibility of loop FX
Section 3: Loop Station Accessories
As we have seen in the article Taking Control of Your Loop Station, a key feature of all BOSS Loop Stations is the ability to expand their functionality by adding additional control pedals.
Let's take a look at the BOSS / Roland footswitches that are directly compatible with Loop Stations:
Appendix A: LOOP STATION Comparison Chart