It's absolutely possible to get a great live drum sound using electronic drums. In this article, we'll explore how to use electronic drums live on stage for a truly great experience for you, the drummer and your audience.
Drummers know this well. Drumming with intensity at an acceptable volume level for both band and audience is one of the biggest challenges.
In fact, drumming in difficult acoustic spaces like a churches and halls is a major headache and earache for band members and audience alike.
Us drummers learn from experience that acoustic drums only really come properly to life when hit the right way with conviction. This fact often seems to be at odds with what is required in a band scenario in many live spaces.
Hit hard enough, the drum vibrates properly and the resulting soundwaves excite the space making for a big and impressive sound so how can we keep everyone happy including ourselves?  Luckily, there is a solution!
How many times have you been told to shut-up when trying to work out a drum part when the guitarist is happy noodling away with their amp turned down?
The 7 Benefits Of Using V-Drums Live
Controllable Volume Level 

Repeatable and Consistent Drum Sound 

Quicker Setup and Packdown 

Stick and Skin Breakages Almost Non Existent

Much Lower Stage Volume

Creative Drum Sound Control

Silent and Recordable Sound-checking

It's not our fault we find it so hard to keep everyone happy as drummers!
Drums are so loud for us drummers, knowing when it's too loud for the audience is impossible from the drum stool. Finding the right drum level ourselves, singers, spoken voice and band is usually a painful case of trial and error. It's and impossible challenge to adjust your own playing volume for other people when you don't know what they are hearing! 
We drummers need our own mix in order to play at our best and it's never the same one the band, audience or live sound engineer needs.
Luckily, electronic drums solve these problems of volume very simply: We can play with the sound and intensity we love and turn the volume level down!
Not having to play behind a huge plastic screen to control the sound is a great relief. Apart from saving a lot of money for the venue, not having to use a screen keeps the line of sight to the other musicians unblocked resulting in better performances.
The TD-50X module that comes with the VAD-706 kit allows you to have your very own in-ear monitor mix separate from the one used by the front of house engineer.
A big acoustic kit demands attention and you can get the same look from electronic drums. 
With full-sized kick, toms and cymbals and stands, nothing is lacking from the look of an acoustic kit except maybe for the mess of mics, stands and cables usually cluttering a miked acoustic kit.
For the audience, they'll enjoy the visual appeal and physicality of a great drummer playing live. Meanwhile on the drum throne, you'll be immersed in the playing and have complete control of your sound and doing what you do best; Driving the show!
The VAD-706 shown here includes a 22″x18″ kick and the VAD-506/503 kits come with 20″ kicks that feel like their acoustic counterparts.
Unlike other acoustic style electronic drums which are stand acoustic drums with a one size fits all trigger, with Roland's acoustic design series, each drum size was designed from the ground-up with the ideal triggering system and head to suit the drum size.

For example, the PDA-100 10″ tom features a side mounted trigger to eliminate the centre hot spot while the mesh head is dual ply. Read more about the feel in the next section below. 
Basically, this combination of custom head and trigger gives the ideal feel and trigger performance for a 10″ drum. Taking this further, the 14″ floor tom features a multi-trigger basket for the widest sweet spot and a 3-ply head to simulate the reduced rebound that drummers are used to with floor toms. 
This is important attention to detail in the design means drummers won't tend to over-play the floor tom giving a much more typical 'acoustic' sounding drum performance. With this combination of technology and clever design means the more expression you put in to your playing, the better and more rewarding the result.
The sheer playability of V-Drums is the result of decades development thanks to close working relationships with the who's who of the world's finest drummers.
Continual feedback from Billy Cobham

, 

Peter Erskine

, 

Omar Hakim

, 

Ian Paice

, 

Gregg Bissonette

, 

Jim Keltner

, 

Chris Whitten

,  

Malcolm Green

, 

Johnny Rabb

, 

Thomas Lang

, 

Michael Schack

, 

Craig Blundell,

 

Chad Wackerman, Kai Hahto and countless other pros. has made V-Drums what they are today.


All of this work results in an amazing playing experience leaving nothing left to miss.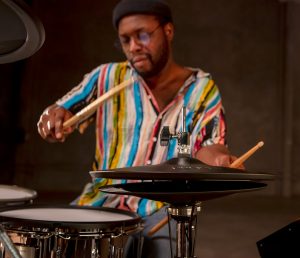 Electronic drums have come along way since the diabolical, wrist-shattering, hexagonal shaped riot shields of the 80's.
See Roland's journey in innovation here
Roland and Remo worked together on designing the mesh heads used today with V-Drums. Mesh heads give the feel and response of an acrylic head stretched over a drum but are significantly more durable and very quiet.
Unaffected by heat and with no tuning needed, Roland V-Drums feature multi-ply, adjustable tension mesh drum heads that feel great without too much bounce straight out of the box. Mesh head thicknesses are chosen to suit the drum too. Multi-ply heads provide less bounce and even lower volume than standard mesh ply heads found on other electronic kits that can tend to feel like playing on tennis rackets in comparison.
Each V-Drum can be adjusted for the ideal playing tension independtly of its tuning pitch. This means you can have a highly tuned 10″ tom sound with the feel of a 12″ tom or a nice loose floor tom with the perfect pitch and tone you like.
As far cymbals go, the thinline 'T' series cymbals in 14 and 16″ are a similar weight compared to an acoustic cymbal and even flex to give that buttery feel we love. Of course you can mute them with your hands too and there are a huge range of modern and classic cymbal sounds in the module. All the cymbal sounds can be adjusted for size and pitch and you can even stack cymbals and add chains, beads and rivets for a huge metal accents or that classic Jazz ride cymbal sustain.
On the subject of ride cymbals, last but not least are the CY-18DR 18″ ride  and VH-14D 14″ hi-hats which connect via a single USB cable. 
These cymbals feature a digital triggering system to allow surprising sensitivity and even for the first time ever on an electronic trigger, staccato playing thanks to skin touch awareness. The hi-hat is so clever it can even recognise left and right hands to give you those subtle human nuances normally lost with electronic instruments.
A very common criticism of electronic drums is that they don't sound like acoustic drums but what exactly do acoustic drums sound like? Is there really one ultimate drum sound? The answer is different for every player and type of music. So many factors that need to be put into perspective. 
There's the player, the instrument, the room, the audience. Drums sound very different for the player compared to the audience too and this also depends on whether the kit is amplified/miked up.

A better comparison is between a recorded acoustic kit and an electronic kit as both are in fact recordings of acoustic drums. 
Acoustic drum kit sounds in the studio through headphones are electrified anyway if you consider that microphones are required to capture the drum sound. 
Every drum sound you've ever heard on a recording or live on stage has been electrified so really is already an electronic interpretation of a drum if you think about it!
Live drums in anything but the smallest of venues always require amplification too so they are hardly natural sounding. The player gets the instant acoustic sound and the amplified sound and adjusts to that whereas the audience mostly gets the amplified/electric drum sound with some of the live stage sound too for better or worse as that part of the sound is not controllable and often referred to negatively by engineers as 'bleed'. 
In smaller venues, a major problem with acoustic drums is that they set the minimum volume level. All the other instruments in the band need to be amplified to compete with the kit which means the overall level will be high to start with. Using an electronic kit allows the overall level in the room to be controlled which helps give a cleaner sound.
Basically, with V-Drums, the miking and technical side has already been done for you. 
Simply connect headphones or amplifier to the module and you're ready to play. 
If there's a sound you can't find in the hundreds of built-in sounds, sample import allows you to load your favourite drum sounds into the module to create your very own library of favourite sounds. Want Octobans or classic black beauty snare? Load them in!
Here's an interview snippet from Simon Kobler of Hillsong UNITED explaining how he uses electronics.
"I like integrating electronics live for a couple of key reasons. When I first started using drum machines to facilitate electronic sounds, it added an extra element to drumming that made things fresh and exciting. I enjoyed the learning curve. Most importantly though, I loved being able to enhance the acoustic sound I provided my engineers. My kick and snare samples are blended together with my acoustic sounds to provide something much richer and I have the ability to achieve one complete sound that lives in a different space to what I could achieve with just a drum and a mic."

Read the full interview with Simon Kobler and Peter James from Hillsong UNITED here
You too can even record and integrate your very own drum and cymbal sounds into your kit. 
See the guide to preparing samples and how to integrate them into your setup.
Just like an engineer would mike-up each drum to connect it to the stage box to record or amplify it to get the sound to the front of house system, so to is this simple with V-Drums.
In the case of ther VAD-503 and VAD-506 kits, the TD-27 module has two direct and two main outputs you can route how you like. With the VAD-706 kit and TD-50X module combination, the engineer can take 10 balanced, noise-free channels to the front of house for even greater control of the sound.
A huge plus for the sound engineer is that there are no microphones to setup and adjust and no spill or microphone feedback from any other instruments, voices or amps on stage for a much clearer and cleaner sound.
Tedious soundchecks where you don't get to hear how your drums really sound out the front are a thing of the past! With V-Drums, for the first time, you can listen to your drum sound out the front with and hear how your sound is projecting in the room.
Using the in-built song player function, press record, play some time and individual hits then loop the playback.
Go out front and listen as the kit plays automatically. You can even save this recording on SD Card to use again anytime.
Unlike an audio recording where sounds are fixed, recordings made in the V-Drums module are MIDI note performances meaning alternative sounds can be selected and modified at will in order to get the ideal sound for the music you're playing. Tuning, muffling, microphone position and any effects and even the transient attack and decay of each sound can all be changed as the kit plays remotely as if you were playing live. These are studio like capabilities for your live drum sound!
Learn more about MIDI vs. Audio here
Adjust your drum sounds and levels on the fly and the band can even play along so you can hear the drums in the right context and hear the performance exactly as the audience will hear it.
After you are happy with the sound, simply save the module state as backup to SD Card for easy reloading at any stage. Save a backup at each venue you play at to easily get the same sound again at any time.
Going with electronic drums on stage doesn't mean sacrificing all the things you and the audience love about acoustic drums. In fact, you will find new sounds to thrill the audience with while making gigs easier and more rewarding.
V-Drums allow you to play with the enthusiasm you feel without having to compromise on look, feel or sound.
Try a kit today at one of your local V-Drums dealers.