If you're considering buying a digital piano or already own one, you may already have discovered some of the benefits of owning a digital piano.
Not all digital pianos however are created equal. There are many design and production factors that determine the overall quality and reliability of the instrument. The manufacturer's confidence in their product is critical. This is directly related to the type of warranty provided with their digital pianos
The convenience of modern technology, headphone operation and intuitive learning features are a given. There is also the benefit of no regular servicing or tuning as there is with an acoustic piano. Typical tuning costs are around $160 to $220 per year for an acoustic piano.
 How to choose between digital and acoustic when buying a piano
Acoustic piano maintenance and warranty
Most reputable brands of acoustic piano are typically been sold with10 years warranty from the manufacturer. Warranty on an acoustic piano is there to provide protection to the consumer. This is to cover against major structural faults that sometimes arise on good quality pianos. So, it's great to know you have a 10-year warranty with an acoustic piano, however most things that go wrong with acoustics are generally down to climate and poor maintenance not structural integrity.
For instance, in humid conditions keys can stick due to the swelling of felts. This is not a warranty issue but can be rectified by a technician.
 There are many environmental factors that affect the overall functioning of an acoustic piano. Essentially you should tune your acoustic piano a minimum of once a year and voice and regulate it every 3-4 years (depending on use). Then a good quality instrument should be mostly trouble free. Acoustic piano warranties require regular servicing to be undertaken, or warranty is made void.
Acoustic piano warranty Vs Digital piano warranty

There has always been a marked difference in warranty periods between acoustic pianos and digital pianos. Manufacturing techniques and component quality have changed considerably in the world of digital pianos. High quality digital components will now last for many years.
In contrast, when looking at digital piano warranties, they cover you for the manufacturer's set period. There is no expectation of any costs incurred to you through the piano's life, other than the use of electricity!
If you are purchasing a digital piano that will be good enough as players progress to higher levels, then a longer warranty period could be very important to you as the player will grow with the piano as skills progress.
Roland's Digital piano reputation
Roland has always been at the forefront of digital piano technology.
The EP-30 in 1974 was the world's first electronic piano with touch sensitive keys. In 1983 the Roland's HP-300 and 400 series were the first digital pianos in the world with MIDI technology. In 1986 the RD-100 was released and was the most advanced digital piano of its time. It featured on countless hit records over the years.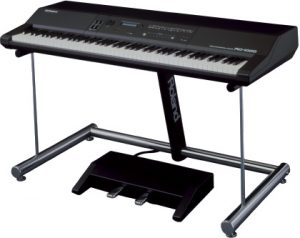 Roland digital piano warranty in Australia
That is why in Australia, Roland' HP-700 Series, LX-700 Series and GP-Series Grand pianos  all feature an industry leading 10 Year manufacturer's warranty.
Whether you are just starting the piano or playing at concert level, you can rest assured that your Roland piano will provide many years of service.
Looking after your digital piano
Although there is no servicing or tuning required with digital pianos, there are still things you can do to extend both the appearance and life of your piano.Here are some simple things to do:
Close the key lid when not playing the piano. If your piano doesn't have one, then consider purchasing a dustcover for your instrument. This keeps dust out of the key mechanisms and difficult to clean places. Over time dust can affect the performance of key sensors inside the key action.
Cleaning the piano cabinet- Use a softduster such as a static one you get from the Supermarket to dust the piano with. A soft cloth such as a microfibre one

can then be used to clean surfaces with. Do not use any cleaning agents on the cabinet. You may have the cloth slightly damp to remove any grime.
Cleaning the keys – Follow the same procedure as for the cabinet.
If you won't be playing the piano for a few days, then switch the power off at the wall socket.