Nowadays, it's difficult to imagine a world without digital pianos. However, not long after Roland was founded in 1972, no such technology existed.
Contributed by Belinda Williams for Roland Corporation Australia
How Roland became a world leader in digital pianos
When the company was first established, it became our quest to build the ultimate electronic piano. Today, Roland is proudly associated with significant milestones such as the creation of the first touch-sensitive keyboard, the first all-electronic combo keyboard, and the co-development of MIDI language.
By the 1980s, Roland was known as a world leader in producing both stage and home digital pianos. Through our pioneering efforts, we reached a point where digital pianos were considered not just an alternative to acoustic pianos, but equal to them. This was demonstrated during concerts featuring full orchestras in which Roland digital pianos were used. Since the 90s, Roland has manufactured digital grand pianos that take pride of place both at home and during performances featuring world-class musicians.
Digital pianos powered by innovative technology
A focus on innovation has been key to Roland's ongoing success as a leader in digital pianos. Our unique approach involves mastering technology through painstaking research, testing and sampling techniques, married with what's most important—the music.
This approach is probably best demonstrated in Roland's 2015 Digital Piano Design Awards where entrants were asked to design a digital concert grand piano of the future. Roland was so impressed with winner Jong Chan Kim's "Facet Grand Piano" that our piano design team set about making his vision a reality. Today, the Facet exists as a prototype showcasing three core themes of Design, Connectivity and Evolution.
The Facet Grand Piano made its world debut at CES 2020 in Las Vegas. The innovative styling has a one-of-a-kind 'floating' look incorporating evocative crystal-like polyhedrons and is equipped with our latest piano modelling sound engine, keyboard, and speaker system. True to our commitment of always looking towards the future, the Facet offers seamless access to digital content, online communications and new visual expressions displayed via the piano lid.
Leaders in digital piano styling and design
This is reflected proudly in our extensive list of accolades and awards where Roland has been recognised at the highest level for our innovative piano design. A few recent highlights include:
• 2021 Red Dot Award for Product Design
The Red Dot Design Award is one of the largest, oldest and most respected design competitions in the world. The most compact of our upright pianos, the Roland F701 was recognised for its combination of soft, inviting design and commanding performance.
• 2019 Good Design Award
The Good Design Awards is organised annually by The Chicago Athenaeum Museum of Architecture and Design to honour the most innovative and cutting-edge industrial, product, and graphic designs produced around the world. Roland's HP704 was recognised within the Sports-Recreation category for its simple-yet-stylish design, marrying the elegant look of a traditional piano cabinet with a modern twist.
• 2019 Red Dot Award for Product Design and 2019 IF Design Award
Together, the Red Dot Design Awards and IF Design Awards attract nearly 12,000 product entries worldwide from more than 52 countries. In 2019, the Roland LX700 series won over the 67-member jury of independent design experts within the "product" discipline and "leisure" category for its well-balanced lines and strong presence without being overstated.
• 2018 Good Design Award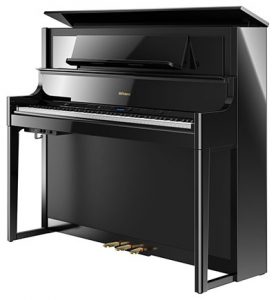 The Good Design Award is the solo comprehensive design evaluation and promotion program in Japan, organised annually by the Japan Institute of Design and Promotion since 1975. Both the Roland Boutique series and the LX708 Digital Piano received accolades in 2018, with the Boutique series also chosen for the "My Favourite Choice for Good Design 2018."
The Roland Boutique series is packed with unique and authentic synth tones in a compact package, while the LX708 garnered praise for our developers' approach of pursuing a new interpretation for digital pianos. The LX708 pianos are equipped with proprietary "Pure Acoustic Piano Modelling technology". This technology is aimed at reproducing sounds in response to the way players touch keys and reflecting how sounds interact with the acoustic qualities of varied physical locations.
• 2017 Red Dot Award for Product Design
Roland's FP-90's top-quality sound and groundbreaking design earned it the highest distinction at the Red Dot Design Awards. Named 2017's "Red Dot: Best of the Best" in the Product Design category, it was up against 5,500 entries from more than 50 countries. Founder and CEO of the Red Dot Awards, Professor Dr. Peter Zec, commented, "Only design visionaries can achieve the perfect harmony between the quality of function, seductiveness, use, and responsibility."
A digital piano warranty with the future in mind
If you're considering purchasing a digital piano for home use, Roland's unbeatable range combining high-quality acoustic level sound performance with our expertise in design can be relied upon. Additionally, you will also enjoy the benefits of modern technology, including lower maintenance and the convenience of headphone operation when choosing to purchase a digital piano.
Roland appreciates buying a digital piano is an investment for the long term, which is why we remain at the forefront of digital piano production. Every digital piano we create is a product of Roland's rich history as well as our commitment to ongoing innovation. We also believe your instrument should be able to grow with you and stand the test of time. This is reflected in our industry leading 5 and 10 year warranties pianos, so you can rest assured your digital piano will be part of your musical life for many years to come.